If you are a huge fan of Halloween, you may feel the need to turn your home into a Haunted House come October 1st… but this isn't always a budget friendly decision.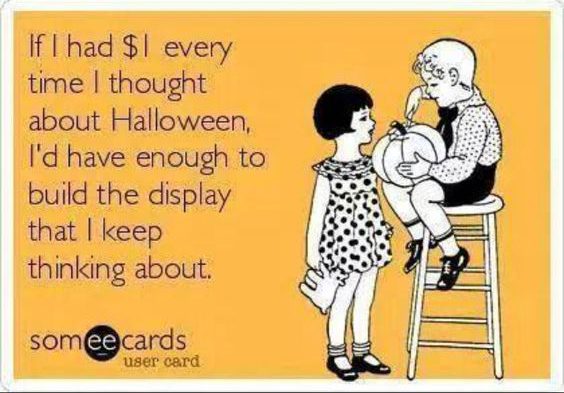 There are definitely some dreamy tablescapes, mantles, front porches (OMG I want to buy a house just so I can decorate for Halloween! I'm almost kidding) and more to be found online. Even if your budget isn't as big as your Halloween decor dreams, you can still have a lot of fun without spending a ton this year.
Halloween Decor on a Budget
Tip #1: Thrift Stores
Yep! Thrift stores like Goodwill and Savers are starting to go above and beyond for their Halloween shoppers in the past few years. With racks of used costumes and clothing items ideal for costumes, as well as plenty of new wigs and accessories, these can be a great place to find the right pieces for a costume. If you look past the designated Halloween area, you can find some great steals or easy DIY items. I found this candle holder and metal "BOO" art for a dollar each at Savers last year.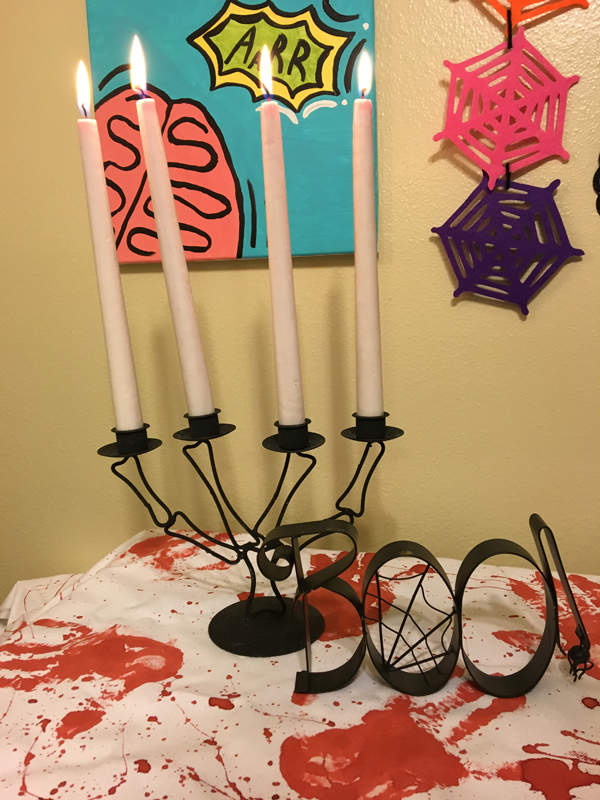 DIY's Pictured: Zombie Handprint tablecloth, Zombie Pop Art Canvas
Tip #2 Paint it Black
It is so easy to take a boring or even ugly vase and make it Halloween ready by giving it a coat of matte black spray paint. You can even give it creepy details by hot gluing toy bugs to the vase before painting, or even relying on the glue itself and outlining a spider web in glue prior to spray painting. You can also spray paint flowers or other floral items. This silver glitter Christmas  floral got a quick once over with flat black pray paint and looks great in a silver vase.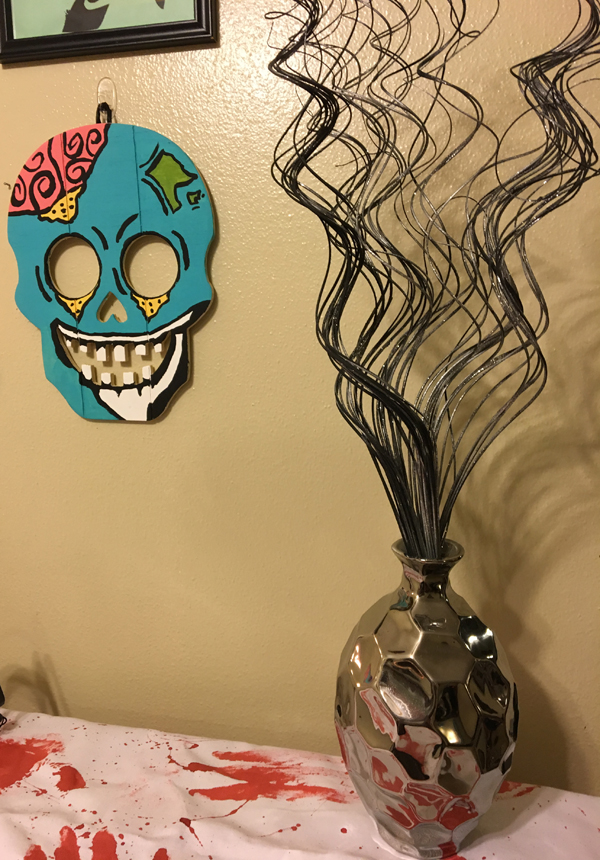 You can also find great centerpiece items. I got these candlestick pillars at a steal (free from a friend) and painted them matte black and topped with Apple Pie candles so the candles themselves can easily transition to seasonal decor after Halloween.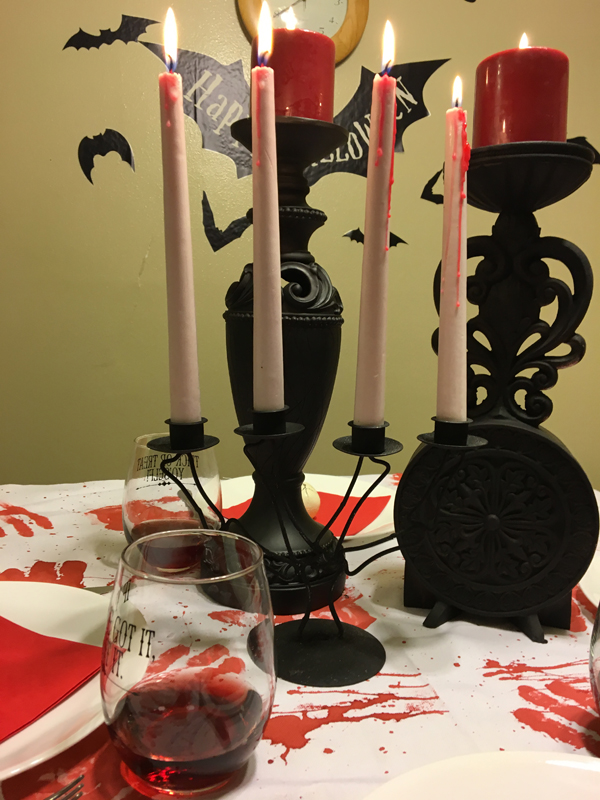 Finally, don't stop at black. The cheesy plastic skulls at Walmart can actually look pretty classy when painted a metallic gold. Really anything goes!
Tip #3 Bullseye's Playground at Target
I call out Target specifically because they have "Bullseye's Playground" at the entrance which always has a ton of seasonal items for $5 or less. I found this "Happy Halloween" banner for $3, the wooden bat cutout for my Boo Halloween Art DIY and a similar pumpkin for $1 each, and the two black framed pieces (spider web and "oh so spooky") for $3 each.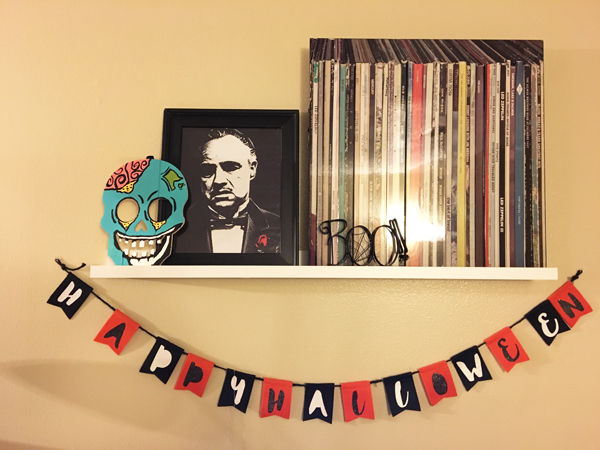 DIY's Pictured: Zombie Pop Art Sugar Skull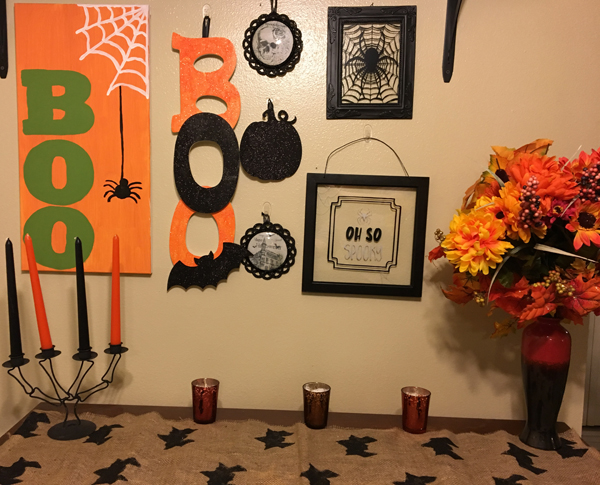 DIY's Pictured: Burlap Bat Table Runner, Boo Cutout Artwork, Boo Canvas
Walmart also has some great cheaper items, which is where I found the circular art hanging above and below the pumpkin, as well as all of my taper candles, foam gravestones (from last year) and LED tea lights.
Tip #4 Drape It
I did replace a lot of my artwork, including the entire setup for my Reading Nook.  For other areas, I didn't want to go full scale (or DIY that many projects just now) and cheap "creepy fabric"  found at Dollar General looks fantastic draped over my pre-existing decorations. It also works well as a table runner or table cloth! Just a little bit of "Halloween" or sheer fabric can make a huge difference for minimal cost.
This concept also works for your existing curtains! You can drape creepy fabric that works with your existing curtain pattern, drape the curtain rod with fake spider webs.
Tip # 5 Wall Art
Wall art doesn't have to go as far as creating a Halloween themed canvas. Many stores offer easily applied wall clings that can really transform your space with minimal effort.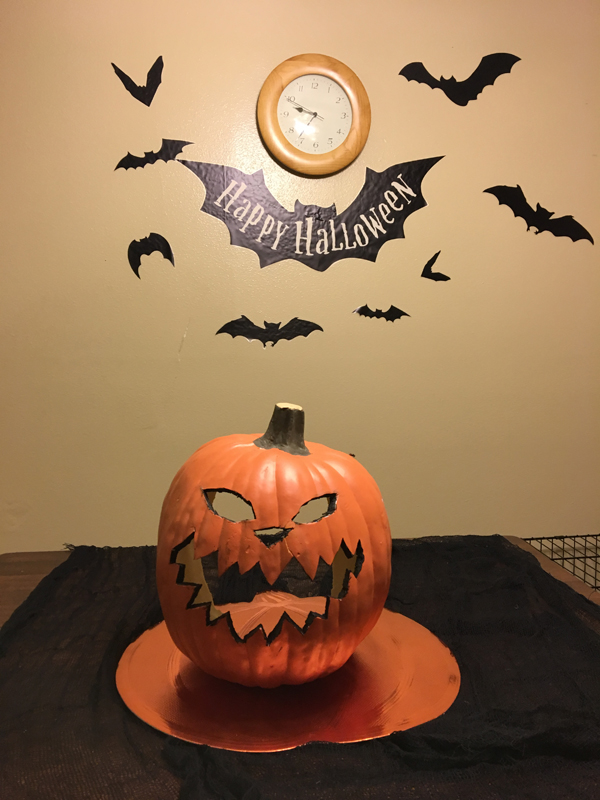 Don't feel like shelling out? Grab your regular old black construction paper and some scotch tape and cut out your own bats or ravens for a neat DIY wall display.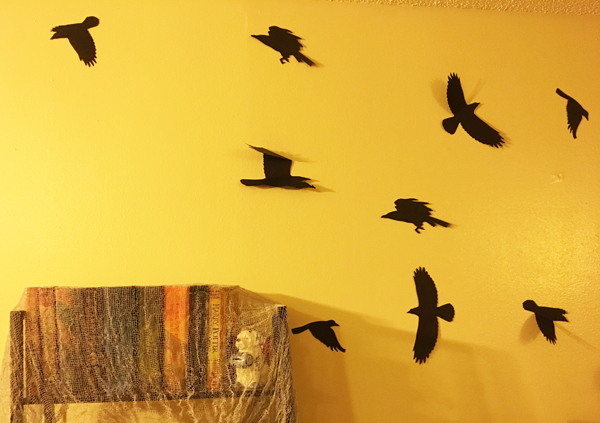 Tip # 6 Lighting
Draping creepy cloth, or even some cheap black tulle has a great effect. You can also mimic the wall decor and stick construction paper bats on the inside of the shades for a cool silhouette effect.
Want to go a step further? You can always find fun shaped old lamps for cheap at thrift stores, and painting them, or even just adding details to the shades (zombie handprints anyone?) can make a huge difference.
Tip # 7 Window Decor
Don't forget the windows and doors! If you have a window panel next to your front door, tape in wax or parchment paper with bloody handprints (let them dry before hanging) in the window. Have a large sliding door, or windows visible from the street? Cut large shapes out of black garbage bags and tape in place. They will look as great looking in with the lights on as it will looking out with the lights off!
What are some of your Halloween Decor Hacks?