Yay for setting the bar so high you cant even see it anymore!!! Wooo!
So yeah, this 100 days of makeup thing didn't quite work right of the bat. Still, I shall proceed with the hopes that with the quickly approaching Halloween Season, I can kick it in to gear fueled by loads of single serving candy. Who am I kidding, its here! Sept 1 is officially Halloween season, amiright?
This all being said, I have actually re-directed my efforts into re-fabbing my You Tube channel... yep I have one of those! (Be patient, still under construction). It was really just a place to put up videos to go along with my costume creations and wasn't a focus, but I have been wanting to experiment more with video on this blog, and the first step to that is making sure that I am correctly using music. Before, I just didn't really care what music I put on the video, it was mostly for fun… until my video was muted due to copyright restrictions. Since I was only uploading the videos as companions for my blog, I honestly hadn't thought about the use of those songs, and having a ton of musical and artistic friends who almost always get asked to use their work, expertise, etc. for free, I felt like I really dropped the ball there.
Ever since that video was muted, I knew I needed to redo those videos, but just simply didn't have time. Le sigh. again. With the Halloween spirit in the air, I've been slowly diving in and resurrecting these one at a time with actually copyright free or creative commons music. Gotta show love and respect for our artists! Its also been fun, since it has been well over a year for some of these, and I don't feel bad hacking and slashing at the videos to make them a bit better while working with the footage I had. It's hard to kill your darlings…. at first. Just give it a year and you will be slashing like Jason. SO since it is what I worked on, I have included in this [past two] week's 100 days of makeup challenge!
Revived Zombie Wound Makeup Tutorial
Bruised Jaw
Since I used Boomerang on Instagram (you should follow me for real time makeup posts: @madlikealyce!) I embedded the post for your viewing pleasure. I liked the double layer, as I was trying to go for more of that impact in the middle with the bruise settling above and gravitationally below the impact.
Bruise + Black Eye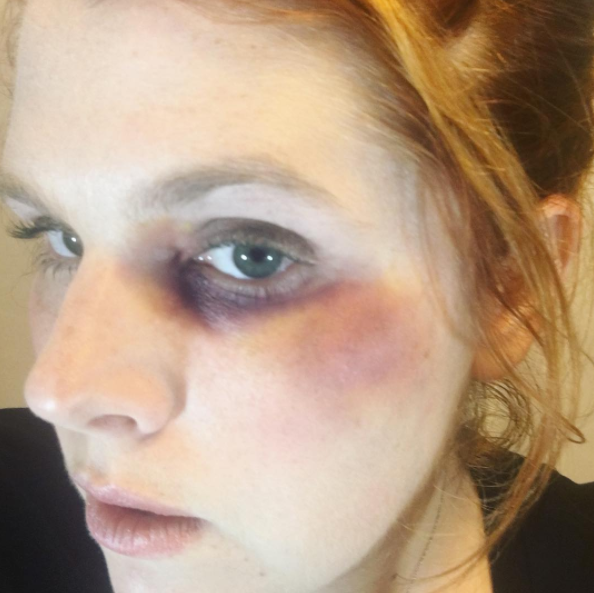 Not all black eyes are resultant of a broken nose or direct eye impact. This one has a cheek impact with a deep settling of the bruise on the interior of the eye. I really like how this one turned out! I did this completely with my Ben Nye Bruise Wheel.
Road Rash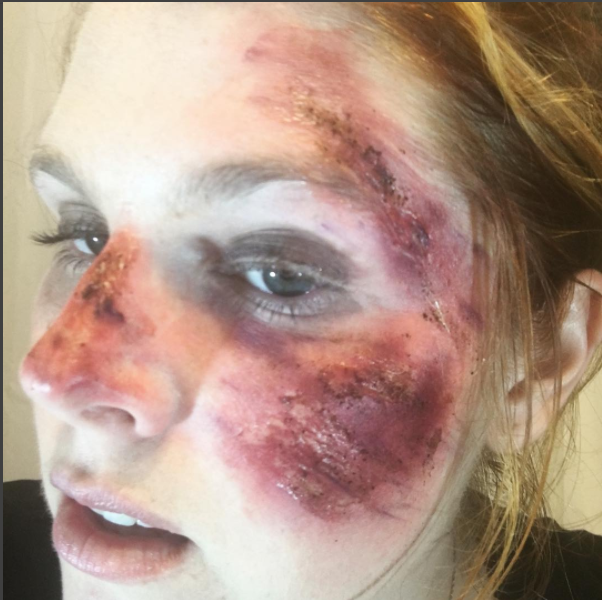 Did you guys ever swing on your stomachs when you were kids? It was fun to feel like you were flying through the air, except for that one time in first grade when I overbalanced and scraped my face for the full duration of the forward swing… pretty sure it looked like this for a week or two. This was done using my prosthetic gelatin recipe, leaving in defined brushstrokes, then topping the bruise wheel makeup with damp coffee grounds!
Thats it for the past two weeks, but that doesn't mean I haven't been busy on my next new idea… keep an eye out, my posting is going to start getting far more regular again I swear!