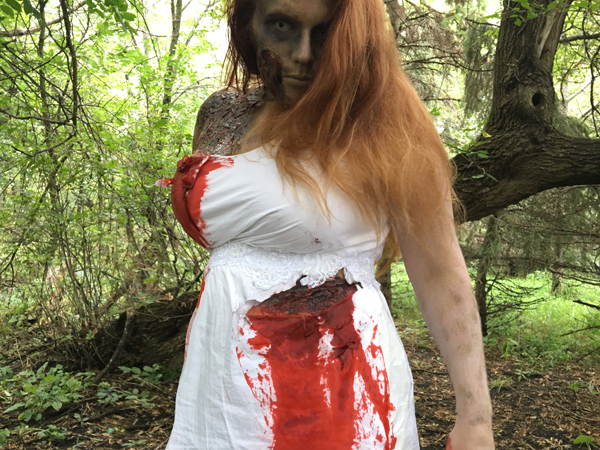 One of my favorite zombie trends is the Zombie Bride. Even with all the guts and gore, who doesn't love a white wedding? Even better, you get to doll yourself up before becoming one of the undead. Back when I did my first zombie bride, I used a real wedding dress that fit me like a glove. Going with the "shotgun wedding" theme, I purchased bullet-hole prosthetics which I applied across my chest and neck. Not bad for my first full scale zombie.
That being said, I wasn't super pleased with how the bullet holes looked, and lets be real… a shotgun would do SO MUCH MORE damage than a few pellet holes.
This is where I also admit to a major oversight. When I moved to Sioux Falls, I made the unfortunate decision to throw away the zombie dress. WHY!!!!!!!!! It was a perfect fit, and after 3 wears that Halloween, the dried blood, dirt, and tears couldn't have looked more realistic if I had actually tried. But, alas, I didn't want to move the huge dress and thought I could always buy one at Goodwill.
So imagine my surprise when I wanted to take my "Shotgun Bride" zombie to the next level this year, and was shocked to discover that even Goodwill charges $100 for a used wedding dress. EEEEEP! Not what I had budgeted to say the least. If you are looking to do a Zombie bride, you might like this much more budget friendly option of a DIY bridal dress.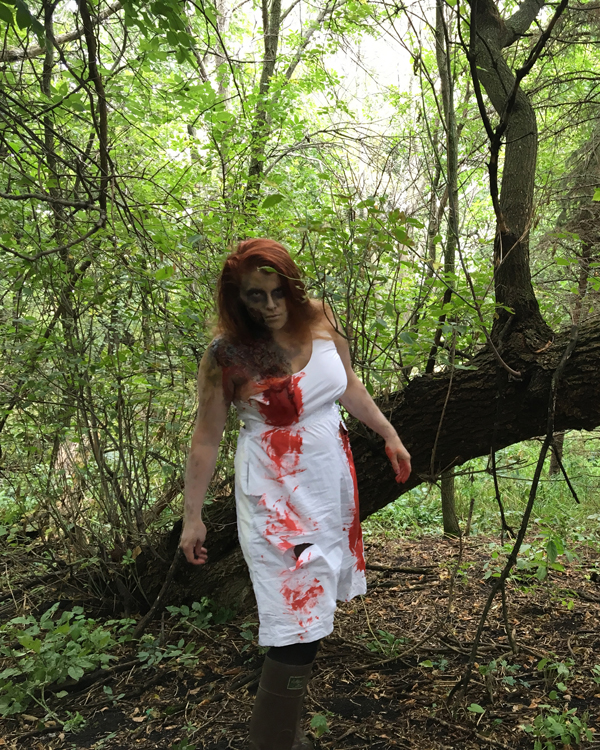 DIY Zombie Bride Costume
You will need:
A white dress. This can be a shorter dress of really any style as wedding dresses have gotten quite diverse lately. The closer the fit, the better.
Hot Glue Gun
Embellishing lace
Scissors
Extra white fabric (if needed for the fit)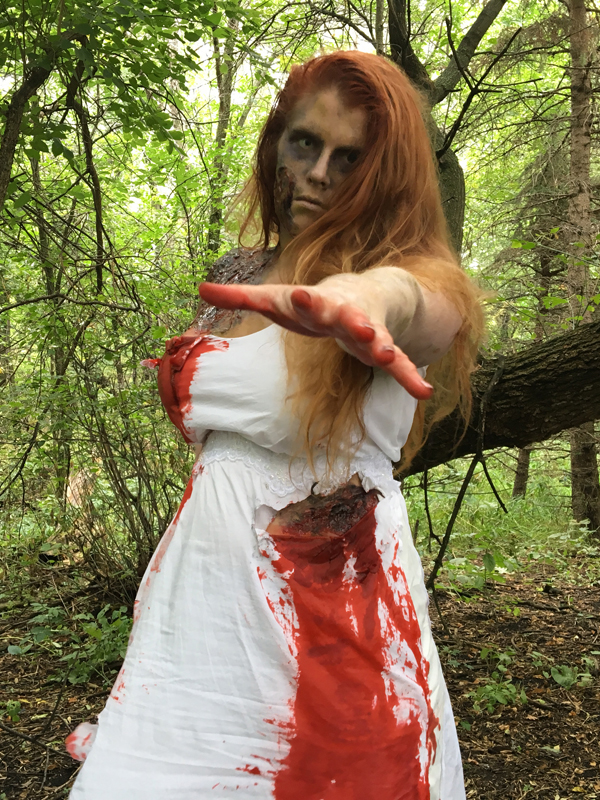 Instructions:
1. First, address the fit of your dress. In my case, it was a size too small, but you take what you can get at Goodwill and this dress was nearly perfect… just an Old Navy summer dress in a crisp white I snagged for $4.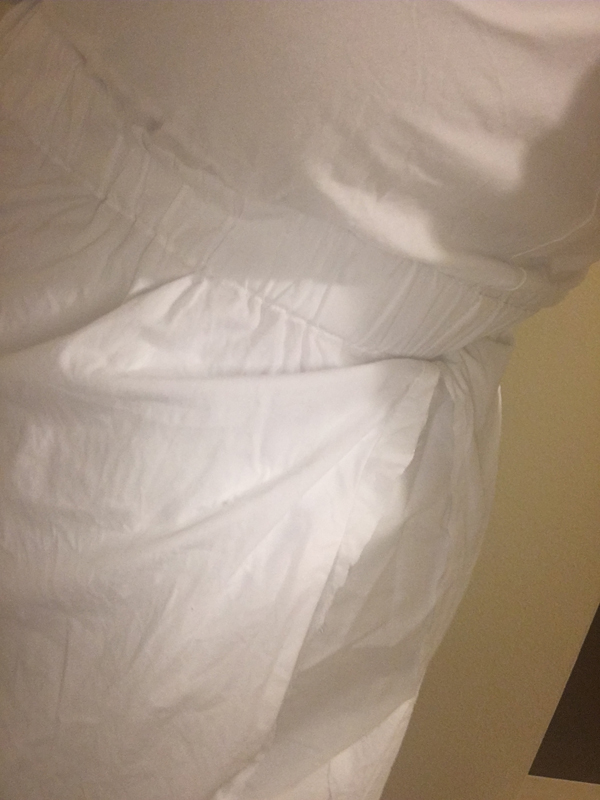 The skirt was a tiny bit tight on my hips, so I split the dress along the hem on either side and added a 3 inch swatch of (nearly) matching white fabric using the hot glue gun. Hey, it doesn't have to be perfect, since you will be destroying it very soon.
2. Add some embellishments. Depending on the dress you find, there are a lot of options, but the simplest is to get some ornate lace from a fabric store. This was the most expensive part of the costume, ringing in at $10 for a 2.5 foot section. Simply hot glue right onto the dress around the waist, or where desired. Note, if you have an elastic waist, like I did, consider stretching the elastic while gluing to ensure fit later. Or even wear it while you glue, just be careful not to burn yourself!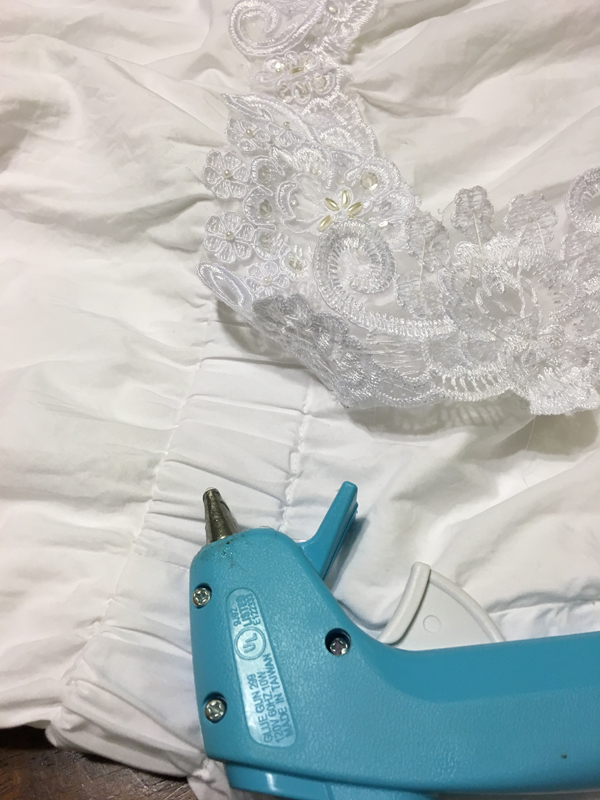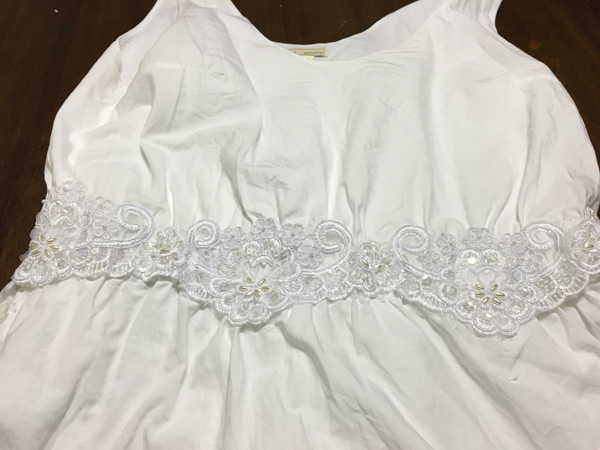 See? Wedding ready for $14 and some hot glue.
3. Strategically rip and tear. I knew that I wanted to have a "shotgun" wound to my shoulder, neck, and face, as if someone had just barely missed a head-shot before becoming my next meal. With this in mind, I cut the strap of said shoulder and let it hang. I also cut a gash in my side, and make many rips in the dress from the bottom of the skirt.
4. Finally, apply the zombie blood. You may want to do this in advance of wearing your costume at let dry completely before wearing to keep it from getting on everything you touch (see my Zombie Costume Tips & Tricks). Also, you can filth the dress up a little, dragging it in dirt or mud to show a bit of proper zombie hygiene… like you have been walking the woods for weeks rather than hours.
To complete the costume, stay tuned for the Shotgun Bride Zombie Makeup Tutorial, coming soon!