There are may things to consider when creating your DIY zombie costume, but I wanted to round up with some not-so-obvious tips along with the basics.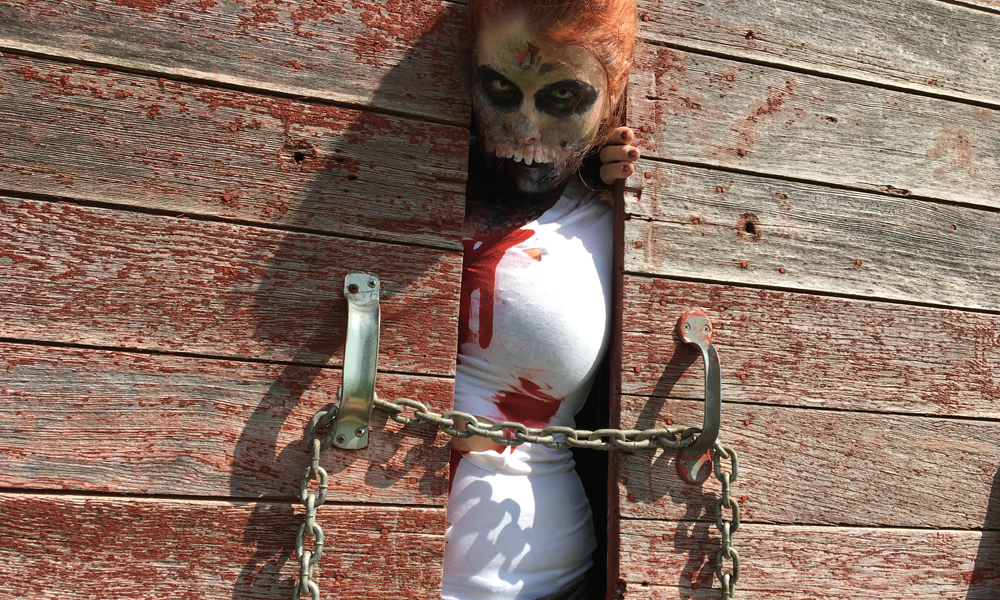 Prepare for the mess
One thing that people often forget about is how messy a zombie costume is! While grease paint is it's own beast to clean, fake blood, both store bought and home-made, leave terrible stains. Plan on throwing away EVERYTHING you wear, including undergarments… meaning don't wear a nice Victoria's Secret bra if you plan on adding any fake blood to your costume… it WILL get ruined.
Location, Location, Location
Think about the location you are applying said zombie blood… you don't want to get it all over your nice concrete driveway and end up with permanently stained pink concrete… zombie gore doesn't help resale value or assist in getting your deposit back. Ideally, applying on a lawn works well since it can be hosed down or left to soak into the soil.
Transportation
If you plan to apply the blood prior to driving to a party, make sure to avoid applying blood to your backside, including the back and sides of your legs. Even if you are careful, invest in some cheap plastic painting dropcloths and line the seats of your car prior to getting your zombie on. I have a friend that still has "blood" stains on his upholstery… not to appealing even when you explain it.
Taking a taxi or Uber? The cheap 1 ply dropclothes cost $1 at Walmart are very compact and can fit in a pocket or purse, and can even be cut into shorter lengths and shared between 2-3 people. The driver will think the world of you.
Weather
Finally, think about what weather you might be out in. Here in the mid-west, October 31 can be a total crap-shoot for cold to borderline hot weather if we are having a fluke season. The year I was a Zombie Bride, the weather was in the mid 60s and totally comfortable to move around normally.
The following year, I did a zombie prom queen, and it was barely 40 degrees… and the plan was to be outdoors all night for zombie crawl in the cities. The day of, I made a last minute stop at a fabric store and bought 2 yards of a white furry fabric that I could don as a "fur shawl" over my strapless red dress and found elbow length white dress gloves to complete the look. Luckily, they showed off the zombie blood well, and the long formal gown hid thick leggings, so I made it through the night fairly well off. Others, however, were miserable after just an hour or two in the cold. If weather is a factor where you are, keep a backup plan in mind… you don't want to ruin your nice jacket or get hypothermia.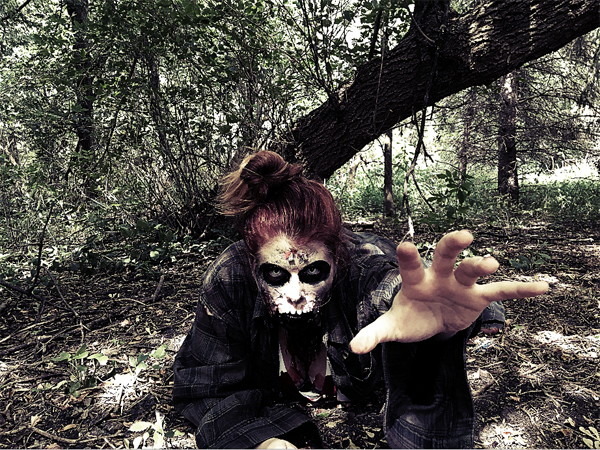 Contacts really evolves the overall effect. I love it!
Zombie Contacts
Zombie contacts take the look to a hole new level!!! The major downside is that you really have to plan ahead. In the United States, contacts are considered a prescription, therefore you can only get them if prescribed by a doctor… which is why Halloween stores can't sell them. I bought mine from SpookyEyes.com.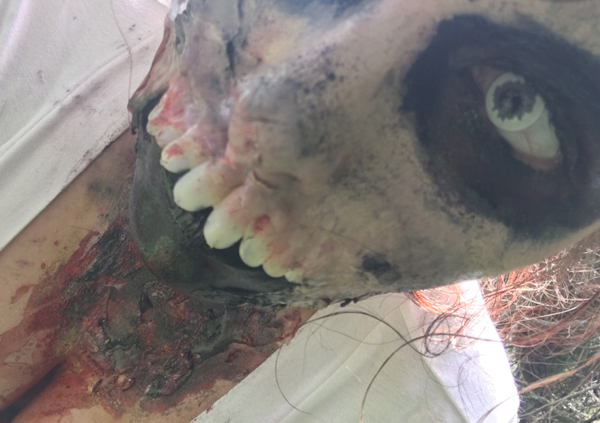 I call this "zombie discovers the selfie." Haha!
To get them, you will have to order online from the UK, which takes about 2-3 weeks to be delivered. They are not the most comfortable to see through at first, but bear with it, you will gradually get used to them. That said, if you are not familiar with contacts or are going to be out and about for more than a few hours, bring a very small bottle of eye drops with you, and maybe even a few handwipes, just in case you need to take the contacts out and don't have the best place to wash off… you don't want makeup on your hands when you are touching your eyes.

DIY Zombie Costume
In this particular zombie manifestation, I was going for the "unsuccessful survivalist" zombie. The kind that tried to hack it in the new world but ended up as one of the un-dead. Regardless of what type of zombie you choose to be, you can always find clothing cheap at Goodwill that you can cup up without remorse. This total costume came to $12. Just $4 for each: the men's pants and over-shirt and a white T.
Another reason to go cheap is that you really need to plan on throwing away EVERYTHING you wear, including undergarments… meaning don't wear a nice Victoria's Secret bra if you plan on adding any fake blood to your costume… it WILL get ruined. Depending on the outfit, sometimes you can salvage it for another wear, but it is honestly nice to just peel these off when you are done and toss them right in the trash before hitting the shower… just less mess overall.
Zombie Themes
This is possibly one of my favorite ways to do Zombies. As you could see in the brief history in my Top 5 Zombie Makeup Tools, I myself have done Shotgun Bride and Zombie Prom Queen. I have been accompanied by a Zombie Biker, a Zombie Dr. Heisenberg, Zombie mental patient, and even a Zombie Paul Bunyan & Babe the Blue Ox!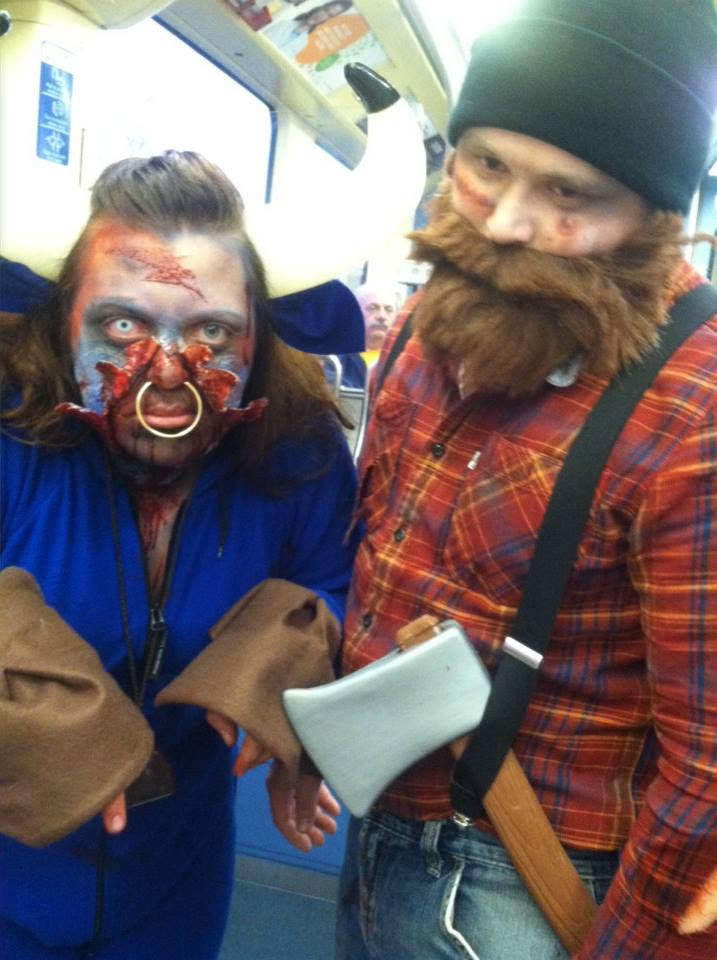 Gaaaa, aren't they cute? My favorite couple!
Check out my Zombie Board on Pintrest for some of my favorite Zombie Costume Ideas, from Pop Art Zombies (I soooo want to try this but think it requires a much finer skill than I can pull off) to movie characters… almost any recognizable figure, a flapper, a chef, even a dog can be made a zombie!