Last year, I created one of my favorite makeup looks to date, which was inspired by a short but achingly poignant poem by my favorite poet, Andrew Coons.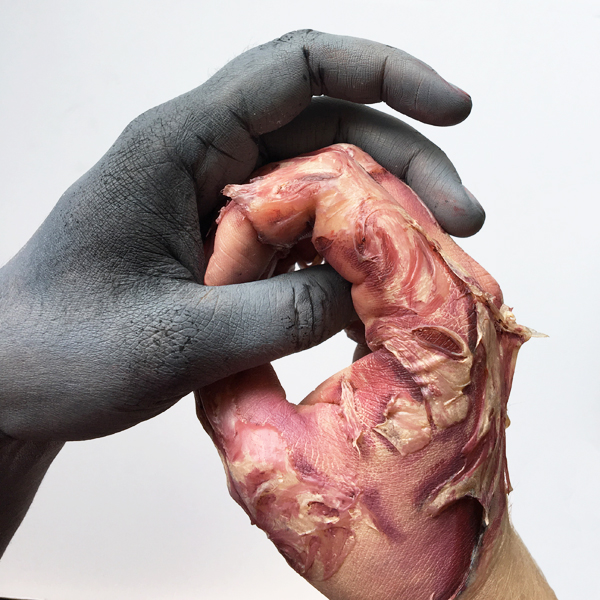 i have loved
with hands closed
and hands open
both are accompanied
by their own type of pain
You should check out his latest work, Sin Eater: poems of loss, love, depression, and fatherhood. I had to pace myself, there was so much emotion in those pages. Perhaps it is because my demons haunt the same shadows as his, but his work truly speaks to me.

Burned Hands Makeup
I first have to say, I was really pleased with how this turned out, as I am right-handed and did this entirely with my non-dominant hand! It is also one of the fastest looks I have done for some time that I was still this proud of.
Start by making prosthetic gelatin. You can check out my video tutorial on how to make it here, and it is made entirely with products you can get at your grocery store. Please, please be careful with this stuff though. Its a great out-of-kit special effects makeup tool, but you can really really hurt someone with it. I have given myself a very severe burn on my arm using this without being careful, and once also burned a very good friend's face. He was wonderful and forgave me, but I felt absolutely awful. Please see the safety instructions in the tutorial. We don't want these to be for real!!!!
Using a paintbrush you don't care is ruined, a popsicle stick, a Q-tip, really anything disposable, run the gelatin over your hands, drizzling and dragging the material to make the burn scars.
Use your normal foundation (or a foundation that matches your skin tone) to color the gelatin.
Use a fine brush to add color to the wounds, adding darker colors in the deeper crevasses. I used the two red colors in the Ben Nye Bruise Wheel. Gently fade the color out into the healthier skin.

Hands of Stone Makeup
Start by basing out your hands in grey. I used water activated Mehron Paradise Paint in grey.
I used a fine brush to add just the faintest line of black water activated paint, also by Mehron, through the natural wrinkles in my hand. The lines will likely be too harsh, but you can gently dab with a tissue or a blending sponge to soften them. Keep changing the shape of your hand to find the best places. Water activated paints also can get a bit dry and crackly looking with lots of motion, so you may already see where these wrinkles are starting.
Run the black paint the same way through the major wrinkles on your knuckles as well.
Take a stipple sponge and stipple black paint to "shade" areas where you had added wrinkles, such as the knuckles being a bit darker, and very lightly to break up the rest of the grey.
Finally, stipple white water activated paint on top to give it more color variation.
If you were going to re-create one of your favorite pieces of art (music, poetry, novel character, anything!) who/what would it be?