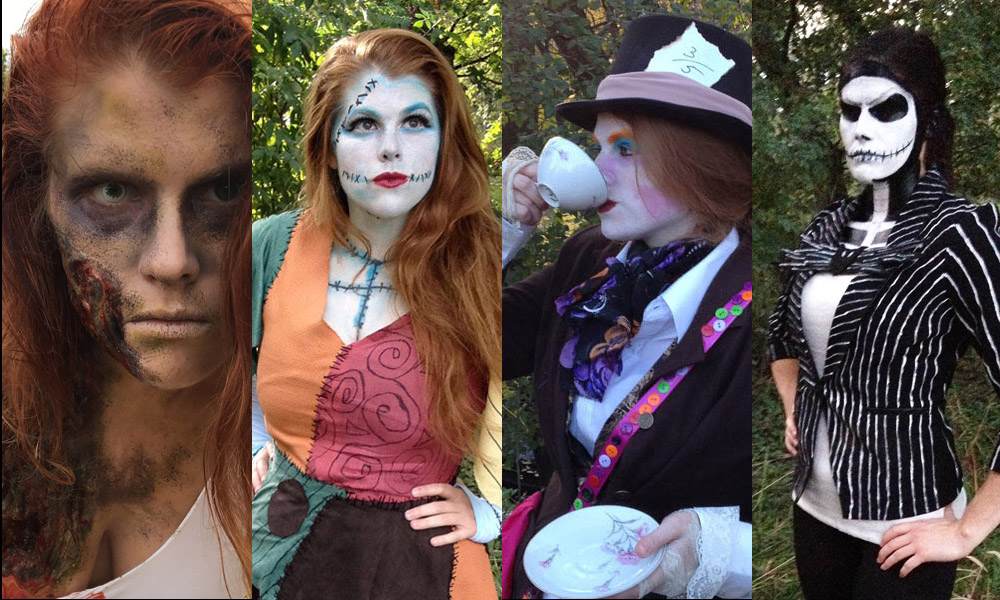 Of all of the posts I have worked on in the past two years, I've realized that, by far, my favorite ones to both work on and post were costume tutorials. It is so much fun being able to transform yourself into anything you can imagine! I've learned a lot over the last few years about using different types of face paints to accomplish different looks and which ones work best… at least for me!
Face Paints
Like many people, I started out using products from the Halloween store, or even the Halloween ailse at Walmart. From my very first year when I did Sally and Jack Skellington from Nightmare Before Christmas, I realized just how little I knew about the products available. This video by one of my favorite tutorial artists ever, Made Yew Look by Lex (subscribe to her, she rocks), breaks down the different types of face makeup out there and references some great brands. Here is a quick breakdown of the types of face makeup I use.

Creme Based Paints
This was the first type of makeup I used, although I learned it may not always be the best for all over face applications, like I did for my Sally makeup, or if you want a really opaque makeup (Jack Skellington, see Grease Based Paints below).
It is, however, my go-to makeup for Zombie flesh color and for any type of wound or bruise. A good bruising pallet, such as this Mehron Bruise Makeup Wheel
, should include a mustard yellow, pea green, dark purple, black, and red. I also recommend using a Stipple Sponge
to achieve a really good, mottled skin pallor.

Grease Based Paints
Honestly, I'm not a huge fan of these, but when I started working on my Jack Skellington makeup look, the creme paint was too translucent, and I wanted the paint to give me 100% coverage. Grease paint certainly did achieve this, but it is extremely messy, gets on everything, and (as far as I can tell) never dries. This means that you cannot touch your face, accidentally rub it on clothing… nothing. It also makes a hot mess of brushes, I had to toss most of them afterwards. If you want to go this route, I suggest trying this 12 Color Pallet
, which includes your basic primary colors as well as metallic gold and silver!

Water Activated Paints
This is going to be my next big adventure, I just purchased two different 8-color pallets from Mehron, and I am SOOO EXCITED to try out a few new looks!