My mom had an over abundance of tomatoes in her garden and I was more than happy to take them off her hands. I didn't know exactly what I would use them for, but I would absolutely use them. Having gotten down to the last few tomatoes, a friend posted a recipe for this amazing Tomato Basil Pie. She boasted it was great. I raise you phenomenal go all in for amazing!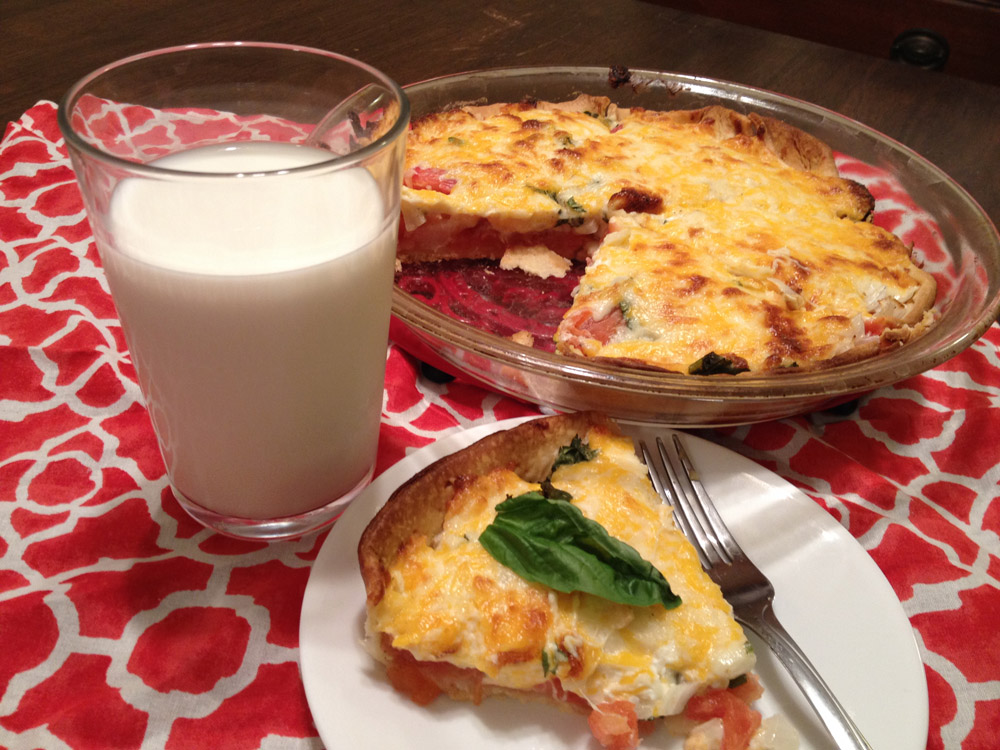 You don't know how much willpower it took to wait long enough to photograph this before digging in. Seriously, my mouth was watering before it left the oven. I'm just ecstatic that the pie crusts come in two packs so I have an excuse to make this again soon! As in tomorrow. Because this one will have been licked clean.
Tomato Basil Pie
5 tomatoes, peeled, sliced and drained
10 fresh basil leaves, chopped
1/2 cup chopped onion
1  9 inch pre-baked pie shell
1 cup grated mozzarella cheese
1 cup grated cheddar cheese
1/4 cup mayonaise
1/2 cup plain greek yogurt
salt & pepper
Peeling your tomatoes
To peel tomatoes, bring a pot of water to a boil and set a bowl of cold water with ice next to it. Take each tomato and cut a shallow X into the skin at the bottom. Drop them into the boiling water and let sit for 30-60 seconds, or until the skin starts to wrinkle and peel at the X.
Fish out with a slotted spoon and place tomatoes in the cold water. Once cold enough to handle, you can easily peel off the skins!
Pre-Baking a pie crust
You might be able to purchase an already baked crust, but i find it just as easy to do it on my own. If you also choose to do this, you can take your refrigerated pie crust and place into you greased pie plate. Generously prick the bottom and sides of the crust with a fork. Bake at 450 degrees for 8-11 minutes, or follow the recommendations on the packaging.
Instructions
Preheat the oven to 350 degrees F.
Place sliced tomatoes in colander to drain. Sprinkle with salt and drain for 10 minutes.
Once drained, use paper towels to dry the tomato slices as much as possible to prevent the pie from getting too soggy.
Place tomatoes, basil, and onion in bottom of pie crust and sprinkle with salt and pepper.
In a separate bowl, mix together the greek yogurt, mayo, and cheeses. Spread over the other ingredients.
Bake for 20 minutes or until it starts to brown.
Recipe from tastesbetterfromscratch.com