This year, I want to build on my sfx makeup. I feel pretty good about my zombie looks, but have zero experience with old age, animals, and even basic beauty makeups! In addition, I would love to learn how to sculpt my own prosthetics… so a live cast is likely in order.
If the last 2 years of 30 days of Halloween weren't already a ton of work… I'm going to do 100 days of Halloween makeup! But, no pressure. I'm going to *try* to post a makeup look everyday on my Instagram (follow me to see them as they come out, plus progress shots in my stories!) for the next 100 days. Great, good, or omg what were you thinking, I'm going to post them regardless. Hopefully I'll learn a ton, and produce a couple of cool looks along the way.
100 Days of Makeup Challenge -Alice In Wonderland!
Day 1 – White Rabbit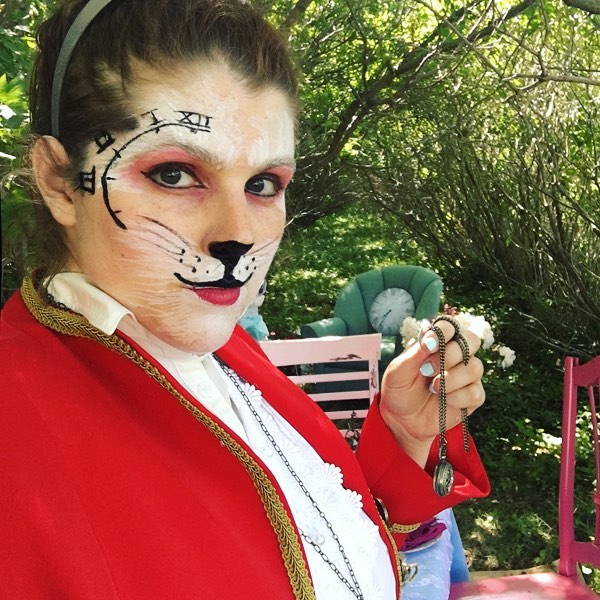 I'm late, I'm late,
For a very important date.
No time to say hello, goodbye,
I'm late, I'm late, I'm late!
Since I almost had a late start to my 100 days of makeup challenge, so I felt it was appropriate to share my white rabbit from my recent Alice in Wonderland tea party shoot. I wanted to keep the makeup more simple, adding rabbit esthetics vs. a whole face makeup. I used a red eye, since this is common with real white rabbits, and I added the clock around the eye, which was an inspiration from Pinterest… unfortunately I couldn't find the original upload to credit. Overall, this turned out great considering I hadn't practiced before the shoot.
This look was accomplished using 100% Krylon water activated paints. I used the brush stroke to create the illusion of fur, and used my top lip to create the illusion of a muzzle. I also crafted some cheap ears, but they were not noteworthy enough to include in the image.
Day 2 – Cheshire Cat: Tea Party Style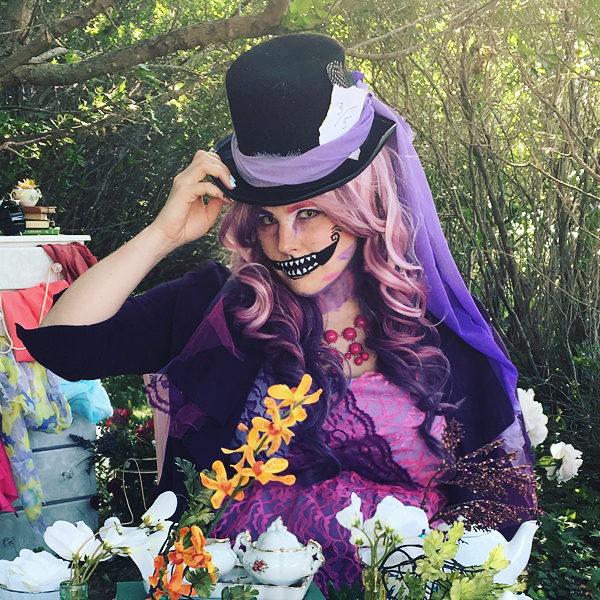 For this look, I wanted to combine some of the really exotic mouths of the cheshire cat with the traditional colors of the cheshire cat. This look also incorporated a DIY Jacket and Tea Dress (Tutorials coming soon!), so I wanted to keep the makeup detailed but minimal, so I only did the mouth, eye accents, contacts, and some stripes. The wig (which I love!) is the Berrylicious Triflect from Rockstar Wigs.
I used Krylan water activated paints for this look, and my biggest takeaway is that water activated paints are not ideal for really hot days… since sweat will activate the paint! It didn't run, but it did start to smudge if I touched it. Also, has anyone figured out how to keep cat eye contacts straight? Mine seemed to want to be anything but!
Day 3 – Trick Candles Gone Wrong for my 28th Birthday
Happy Birthday to me! Look 3 was a homage to my 28th birthday. The idea for this makeup is a "trick candle gone wrong" that was inspired by Seamus Finnigan's character in the Harry Potter movies when he continuously blows things up.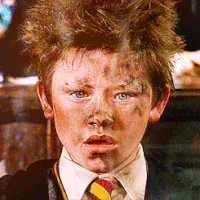 I used a glycerin based prosthetic gel to smooth down my brows, covered by latex, but I don't think I was super successful in blocking them out. Something to work on. Either way, this one was a fun and goofy makeup, followed by CAKE!
Day 4 – Whoooo are yooouu? Absolem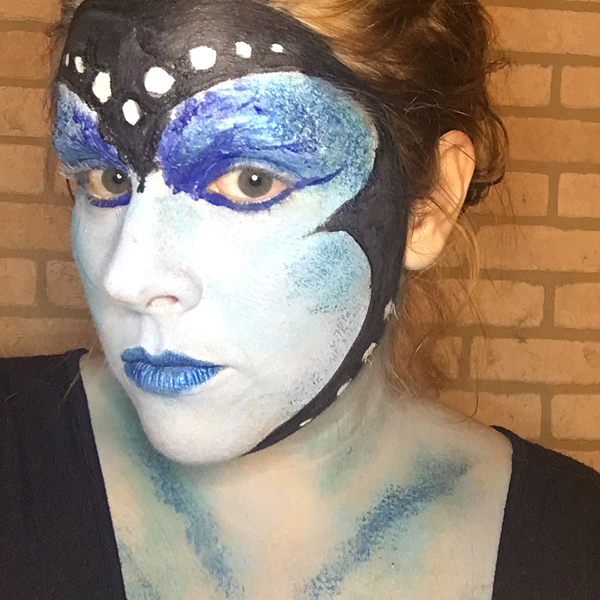 For look 4, I'm Absolem from Alice in Wonderland! I wanted to do something that was more of a beauty makeup than the more wrinkled Tim Burton version. To give it something that resembles an insect, I decided to incorporate elements from the blue butterfly he turns into, with the white spotted black in a "butterfly wing" shape, the gradual ombre from the inside corners of the eye, and the stippled stripes on the neck and chest.

Overall, a MUCH better attempt at blocking out my eyebrows, and I am thrilled with the look of the blue contour. The eyes could have been way cleaner, and do look messier because of the gelatin on the brows…. I'll have to try something else, or just learn how to camouflage them into my look. Overall, this was my favorite look this week! I used my new Brilliant Krylon palette, Krylon water activated paints, and a loose blue powder eyeshadow for contouring.
Day 5 – Mad Hatter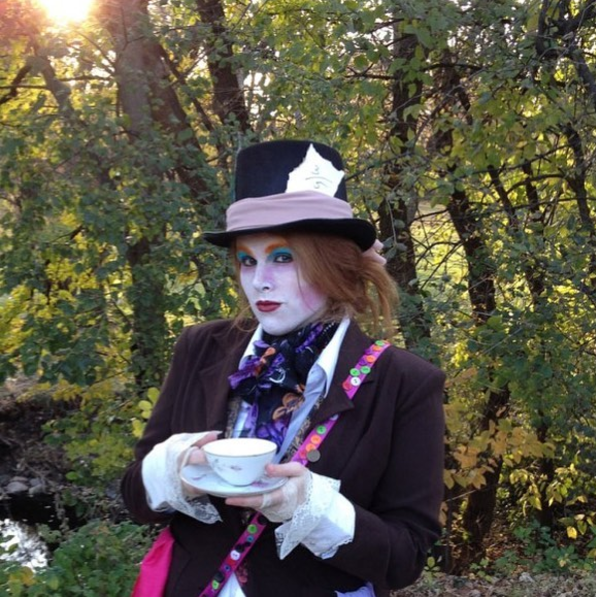 Alice in Wonderland is not complete without a Mad Hatter look! This look in particular was accomplished with creme paints, a blue eyeshadow, orange grease paint, and lipstick… a real mashup! Sometimes, you have to use what you have on hand.
Day 6 – Queen of Hearts
Do you ever have that one project that you just couldn't quite get right, but you just can't let it go? (Insert Frozen lyrics here). But seriously… for me it is the queen of hearts. I tried two other makeup versions in years past and just didn't really like them. So, I decided to try to tackle it again. There are a few cool looks on Pinterest I liked that make the face into a heart shaped mask, and there is a trend I'm a fan of lately that extends the bottom lash on the the cheek. Ultimately, Im a lot happier with this one, but that feeling of having "completed" this look still eludes me. I'll capture the queen of hearts someday… or truly have learn to let it go!
Day 7 – Cheshire Cat: Tim Burton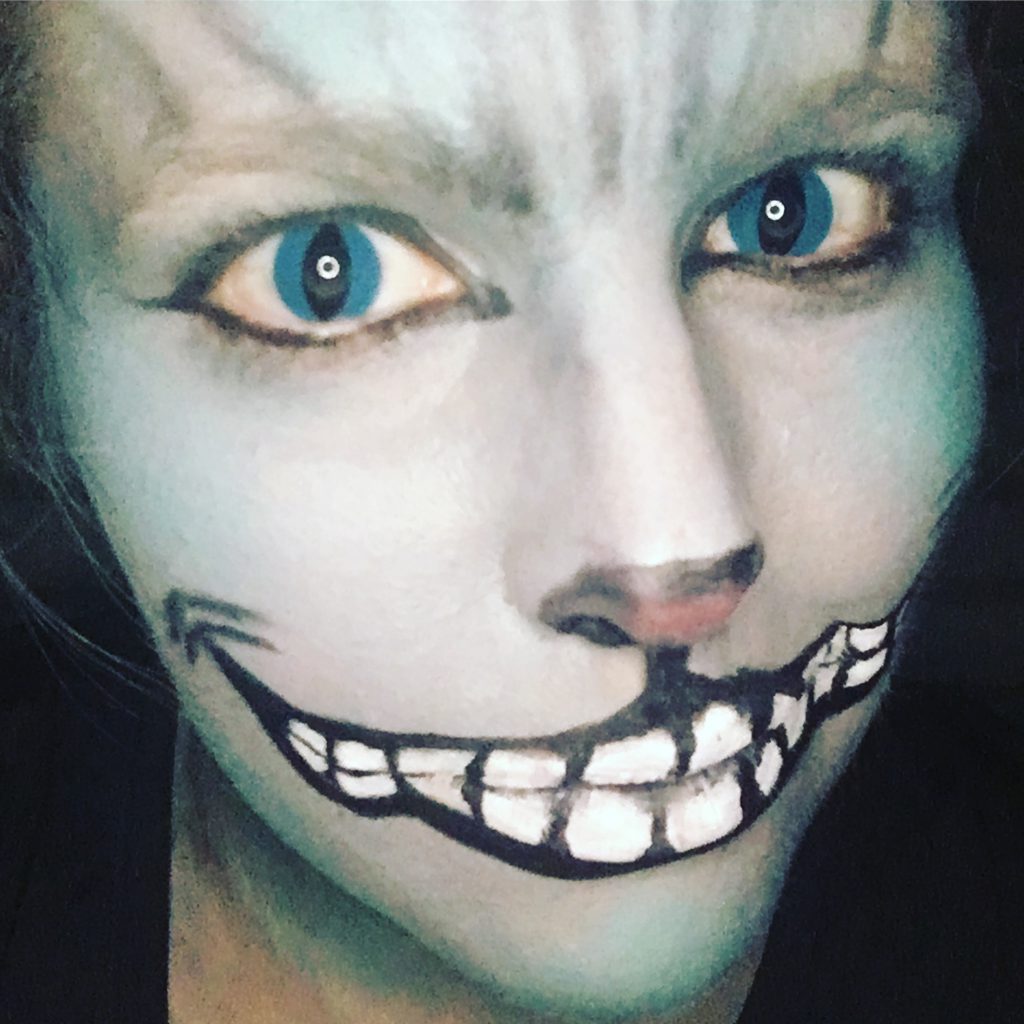 One more for Alice in Wonderland… my second Cheshire Cat! Since my last look was a Burton-esk mouth with traditional colors, I flipped it on its head with Burton colors and a traditional mouth. These contacts were surprisingly easy to see out of, and they actually stayed in place! This was made with Krylon water activated paints, and took much longer than I would have liked since I didn't have a grey color and had to keep mixing my own grey for the base. Im also going to be out of white… 7 days goes though colors fast!