Puppy Chow, Muddie Buddies, Peanut Butter Chex Mix, whatever you may call call it… add peppermint and suddenly you have Christmas Crack. I hold this dish entirely responsible for my 1.5lb weight gain this week… despite otherwise healthy eating. It was worth every bite, not even kidding, and the best part is just how easy it was to make!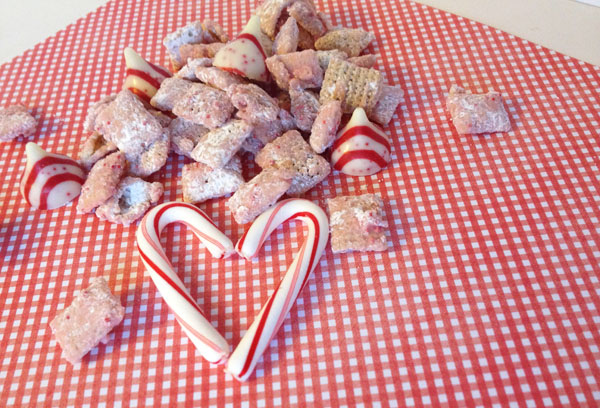 Peppermint Puppy Chow (a.k.a. Christmas Crack)
You will need:
Hershey's Peppermint kisses (10 oz bag)
6 cups Chex cereal
1.5 – 2 cups powdered sugar
Instructions:
1. Unwrap all of the peppermint kisses into a microwave safe bowl, and microwave in 30 second intervals, stirring in between each interval, until completely melted.
2. Pour over chex cereal in a larger bowl and gently stir/fold the cereal into the chocolate.
3. Once cereal is well coated, shake powdered sugar over cereal, starting with 1 cup and adding more sugar as necessary. Stir mix to evenly coat.
4. To speed up the cooling, you can pour out onto cookie sheets to speed up the process.
Now just make some hot chocolate, pop in a Christmas move (I recommend The Holiday) and snuggle with loved ones and eat to your hearts content.