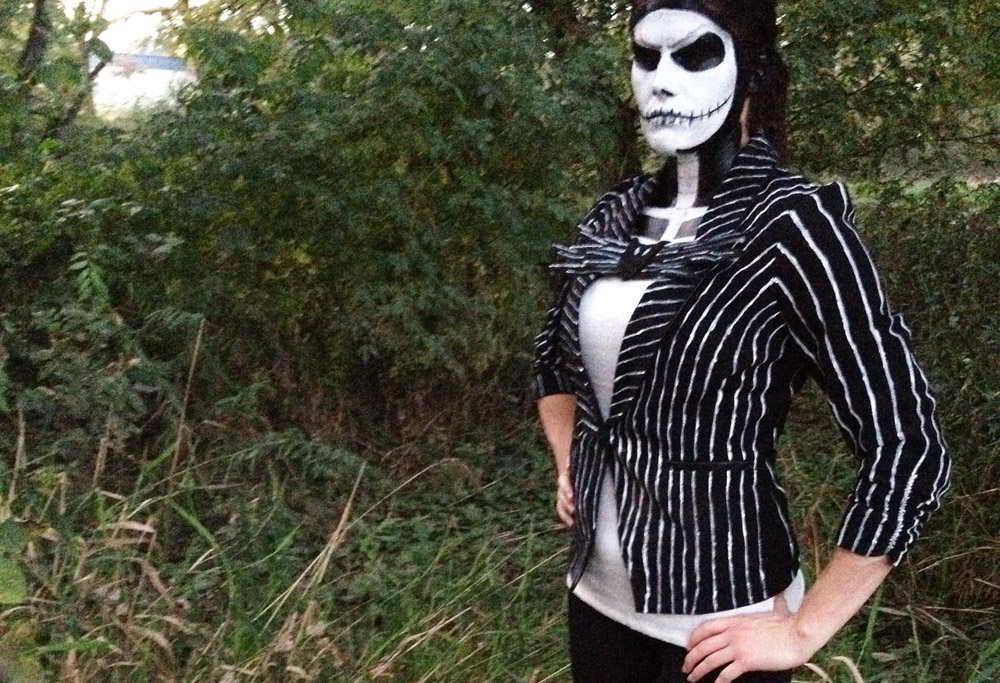 I love how this costume turned out! I am all for using thrifted items for Halloween costumes, but I realize that finding a pinstripe suit that fits and looks the part is no easy task. Thankfully, Tim Burton's style lends itself perfectly to hand painted stripes, so you can find any suit jacket that fits you and make it work!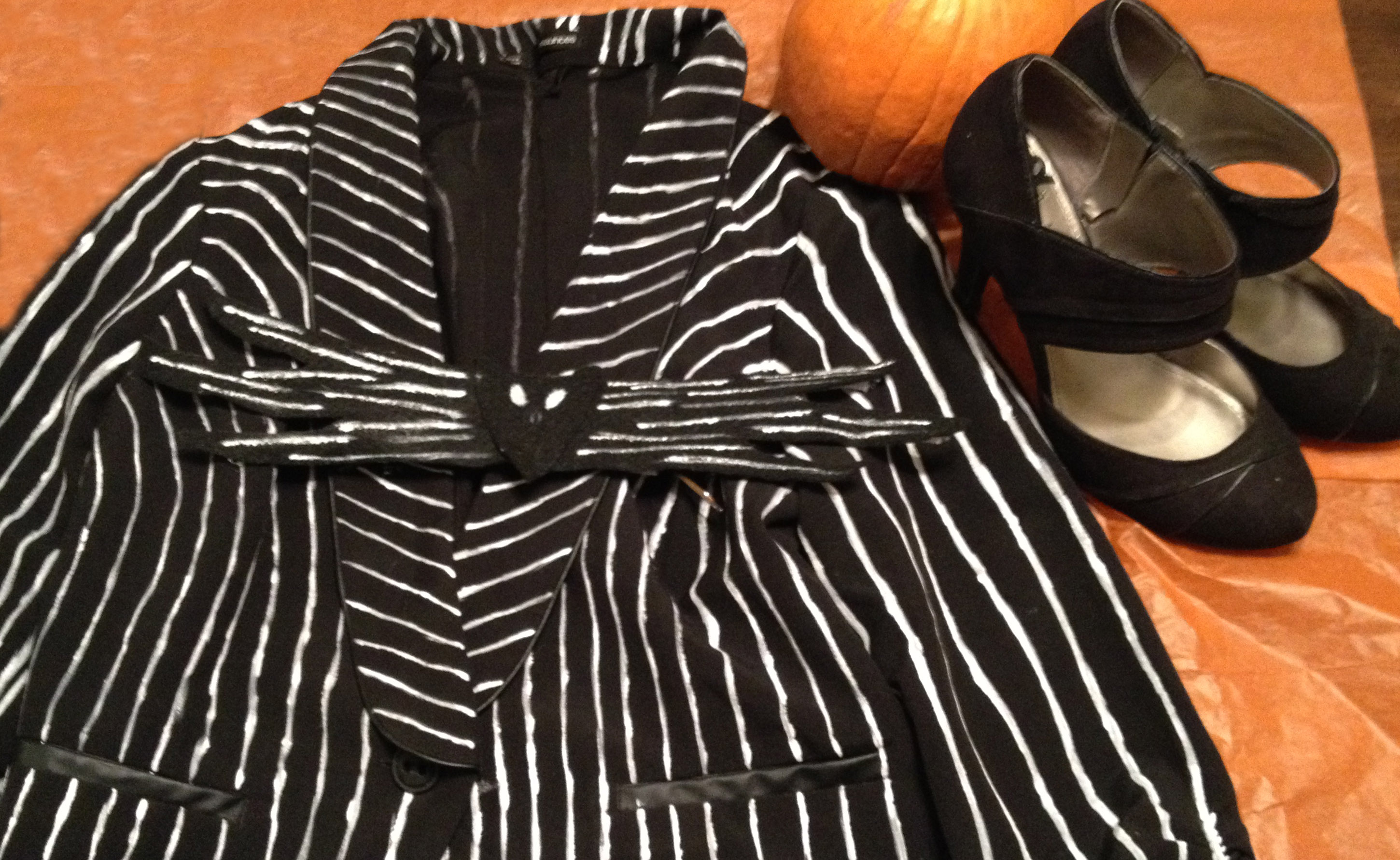 Jack Skellington Costume Tutorial
In this particular tutorial, we skipped doing a pinstriped pant and opted for sleek black leggings with heels to give Jack a little more feminine appeal, but you can easily continue the pinstripe described below for a pair of black pants as well, and it could still be paired with heels or a flat shoe, whichever you prefer. I also like how the heels extenuate the tall skeletal look, and as my sister has a much more slender and tall frame than I, she was the perfect model!
What you will need:
Bat Bowtie (

see previous tutorial

)
Black suit jacket
Black leggings or pants (painting optional)
Black shoe, heels optional
White tank top or undershirt.
White acrylic paint and paint brush
Super Simple Instructions
1. Start by painting along vertical seams on the jacket, then following the seams and any curves with the white paint. Space out your stripes about half an inch between each.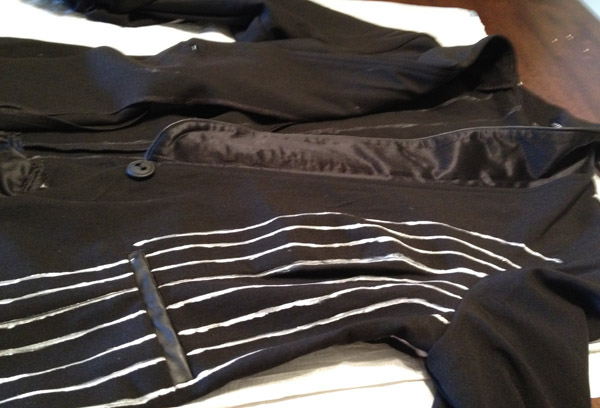 2. Leave details, such as jacket pockets, untouched.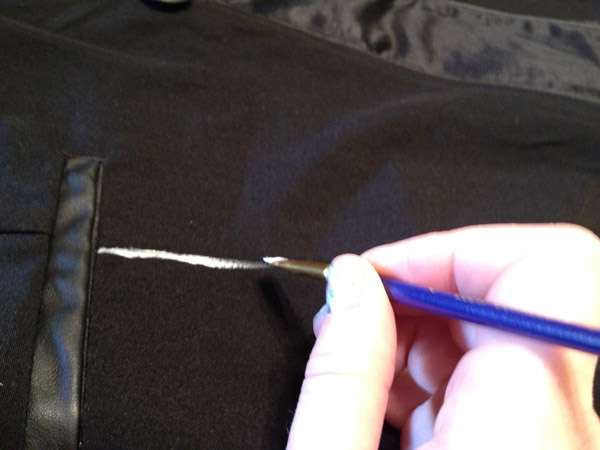 3. Finish by painting the lapels with stripes that angle outwards and up.
4. Let dry and flip to the other side (assuming you started with the front) and complete pinstripes.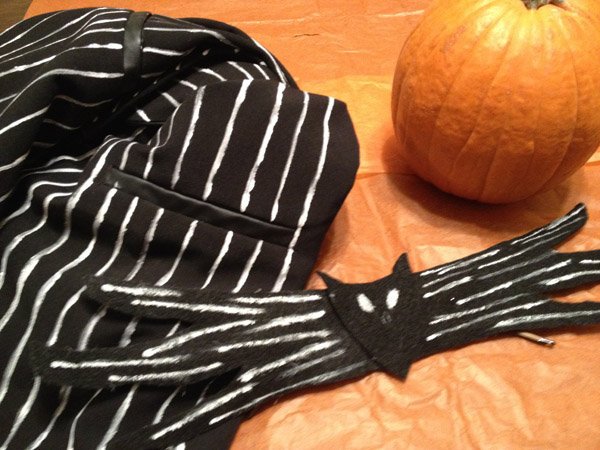 And that's it, you're done!
Take it up a notch
While my sister didn't want to include this in her photos, I thought it would be fun to use white knee-high nylons and use a sharpie to draw out the tarsal bones of the feet where it would show above your shoe (provided you wore a heel or flat that actually shows your foot.)
I also had purchased gloves with bony fingers, but they didn't quite work with the 3/4 sleeve jacket she chose. They would, however, be a great addition to a costume with a full length sleeve!