Peach recipe #1! While it's not a true peach recipe per say, I love making protein pancakes and adding fruit is a great natural sugar substitute for syrups or jam. Originally, I had intended these to be more of a crepe but things don't always work out as planned. In this case, not enough almond milk + poorly flipped pancake = pancake stack instead of crepes. Not as aesthetically pleasing but just as delicious!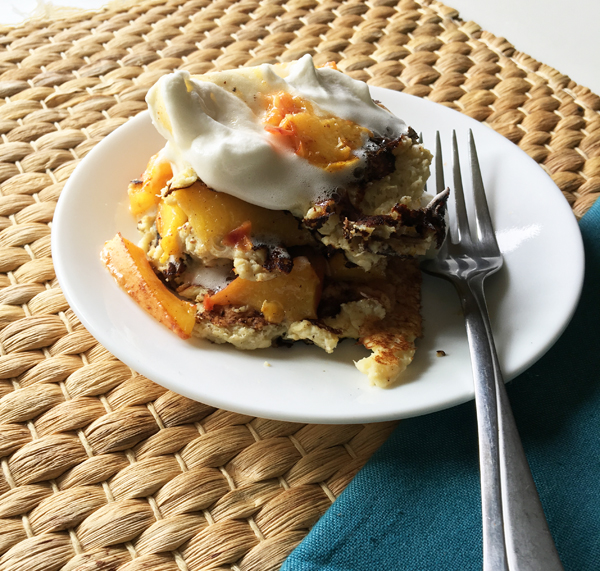 You will need:
1 egg
1 scoop vanilla protein powder
1 banana, mashed
1/2 peach, sliced
Cinnamon
Nutmeg
Vanilla
Whipped cream, optional
Instructions:
1. In a small bowl, mix the egg, protein powder, banana, 2-3 drops of vanilla and a dash of cinnamon and beat with a fork or electric mixer until thoroughly combined with as little clumps left as possible.
2. In a small pan, caramelize the peaches with a dash of cinnamon and nutmeg, stirring to prevent burning. Cook for roughly 3-4 minutes and set aside.
3. Heat a large pan and spray well with cooking spray. Pour batter into medium-hot pan and cook until bubbles stop forming on the top of the batter. Using a large spatula, flip pancake. Cook until pancake no longer sticks to the pan on it's own.
4. Top pancake with whipped cream and cooked peaches and serve! If you destroy the pancake in the flipping process like I did, layer chunks of pancake with whipped cream and peaches, and no-one has to be the wiser 😉