My first 10 weeks doing Farrell's Extreme Bodyshaping workouts were life changing. Here is the kicker… I lost one pound… and it was 100% worth it. Let me explain.
My Results
During my 10 weeks at Farrell's, my body completely changed in a way I never thought could be possible and allowed me to achieve things physically that still shock me. But first, the results.
Weight: 1 lb lost
% Body-fat: 1.6% Body-fat lost
Inches: Total of 8.75 inches lost (2.5-thigh, 3-waist, 1.25-arm, 1-chest, 1-hips)
Pushups: Improved from 6 pushups (from toes) in one minute to 52 after 10 weeks.
Sit-ups: Improved from 26 sit-ups in one minute to 43.
Sit and reach: Improved my flexibility from 19 to 24inches in my reach.
I still cannot express how flabbergasted I was at how much my body could change without seeing it on the scale, proof that the scale really is just a number. I can wear clothes I couldn't before, my leggings are now slightly baggy in a few areas, and I feel amazing at what I had accomplished…. LOOK AT THOSE PUSHUPS!!!! I have never had upper body strength before… and I cannot tell you what a rush it was when I finished that test. I mean, I was dead and my arms were jello for days, but it was so worth it.
The Pics
There is a part of me that dreads wanting to show these, and the other part is so amazingly proud. They certainly are not what I would like it to be, but its also incredible for me to see the difference and know just how much I can accomplish in the next 2 months if I really focus. So here it is, in raw, un-edited glory (eeeeeeek!).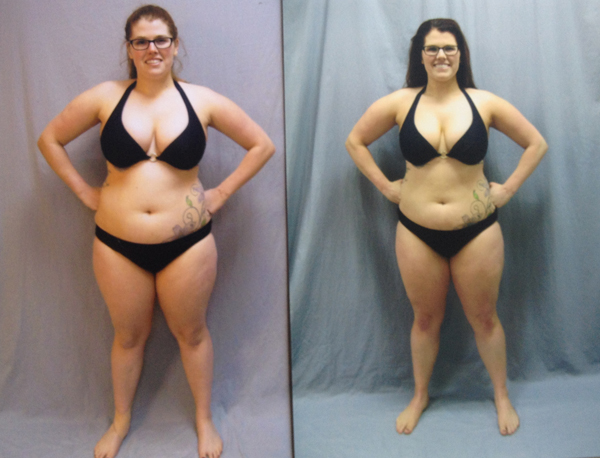 Left: Jan 8th, 2016 | Right: March 19th, 2016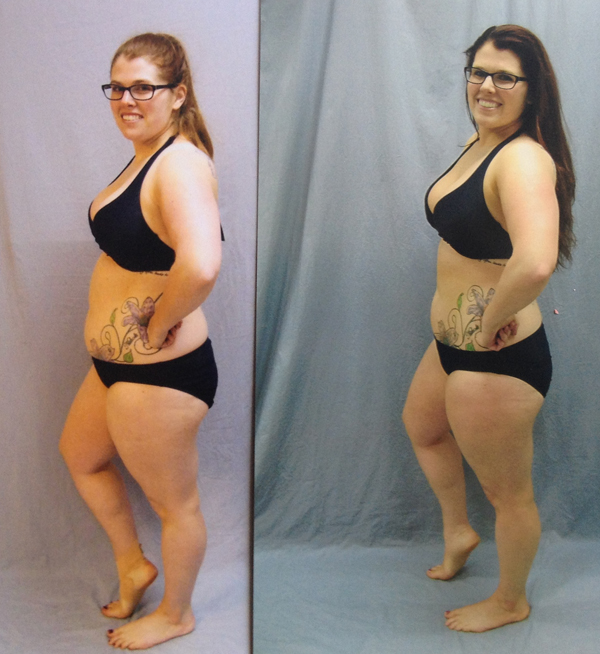 I chose to wear my most revealing and, honestly, much too small swimsuit. Why? Because I wanted to see everything. As much as I didn't want to, I needed to see these pictures. The smile on my face after 10 weeks is genuine… I feel incredible. And I want to show these to you, my readers, to show you the beginning of a new (or renewed?) journey. We all start somewhere. My physical health fell apart 6 years ago, and over the last two years, I have been making steady steps towards getting it back.
My Takeaway
The biggest lesson I have learned in this is that every step towards your goal is success, even if it is just one step. We see someone at the end of the journey who is fit and disciplined and feel like we can never do this. We get online and are barraged by meal planning, fad diets, macro/micro nutrients, weight loss plans, 30 day challenges and more. Its not always possible to completely revamp your life and suddenly adopt all of these ideas, and not all of them are going to work for us anyway. Some changes are just too big and we are not ready… yet.
If you take anything away from this post, take a look at your own successes. I've started drinking more water over the last year than I ever thought possible. I cut out coffee creamer and sugar in my coffee and drink it with almond milk instead. I've stopped drinking soda. I cook more, and make a relatively decent effort to try to plan meals ahead. These are all small but very huge successes I have made while working up to larger and greater goals. Make sure to celebrate your own successes and don't let someone else's journey cast yours in shadow. You can do it!