Love Halloween but want to host a more adult friendly themed party? Never fear, you can still host an elegant Halloween soiree fit for the Pumpkin King himself!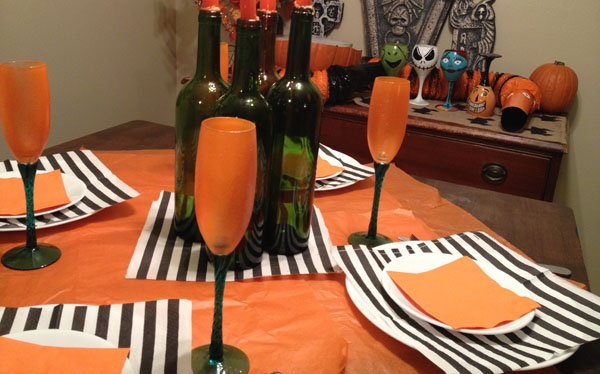 You don't even need to purchase fancy dinnerware. Black & White striped and orange cocktail napkins dressed up plain white dinnerware with ease.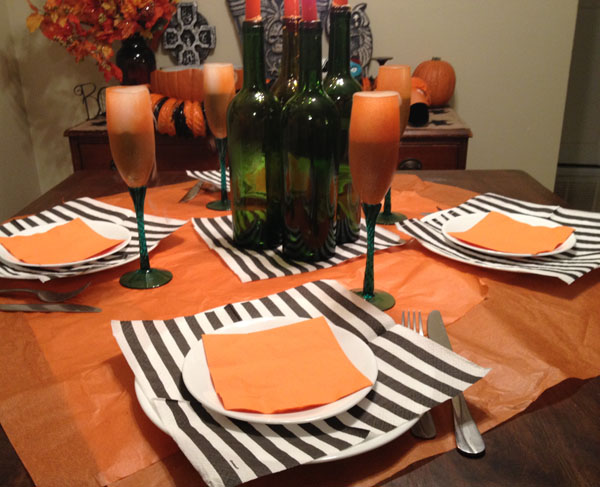 A fancy tablecloth is also not on the list, as simple decorative tissue goes  a long way!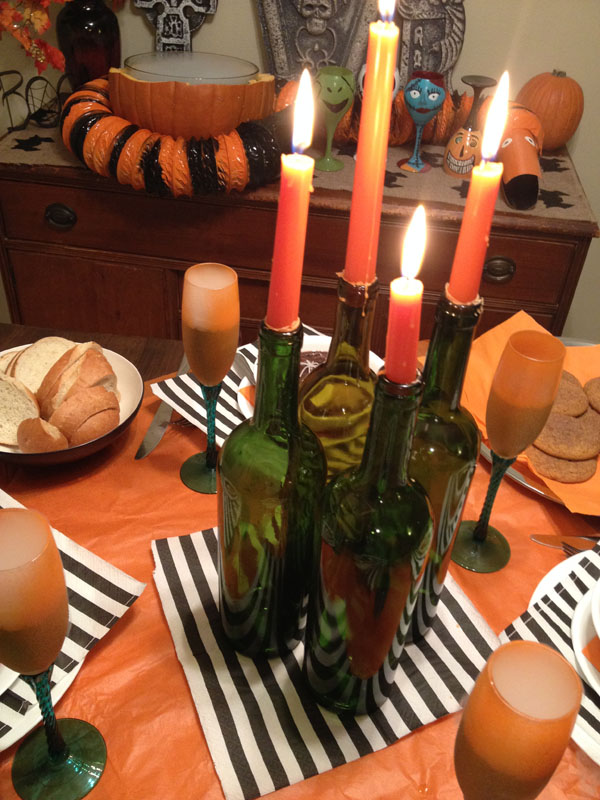 Are you a wine aficionado? Or simply put… a fan of wine? Then you might have a few spare bottles lying around, which make a fantastic centerpiece! Cut the remaining seal from the neck, and use steel wool to scrape and clean away the labels. Then squeeze tapered orange candles into the neck for some evening ambiance.
If you would like, use a sharp knife to cut the candles into different lengths, and if you want one fairly short but it keeps slipping into the bottle, use the cork to hold it in place by forcing the cork in past the top of the neck, and setting the candle on top.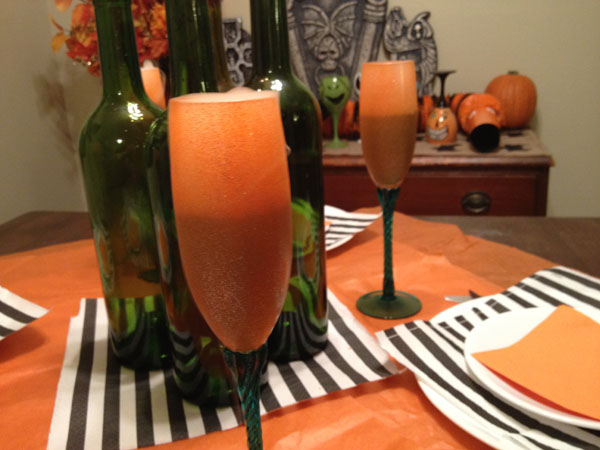 I have been known to drink wine out of many suspect vessels in my day, but these pumpkin champagne flutes are my favorite! I lucked out and found these amazing flutes at Savers for just $1 each, and they already had green glass stems. All I had to do was give them a once over with orange and glitter paint, and they were as perfect as if they came straight from the pumpkin patch. Make them for yourself!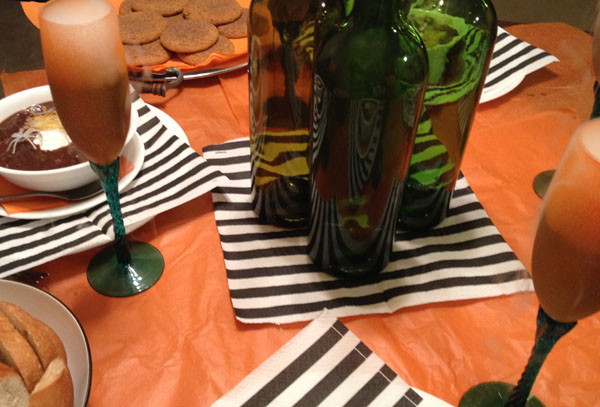 Want to serve a ghoulish brew? Fog Juice Party Punch is a great option for both alcoholic and non-alcoholic gatherings. But really, anything you put in these is going to feel pretty fancy, not going to lie.
Dinner can be as complex or as simple as you would like to make it. Sticking with the Nightmare Before Christmas theme, I decided to serve Oogie Boogie's specialty, Snake and Spider stew. Soups and Chili's are great this time of year, and are even better for parties since you can make it well in advance. This particular recipe is one of my all-time favorites, Spicy Black Bean Soup! Simply add a plastic spider to your garnish and you are good to go.
Not including food/beverage, here is what I used to pull off the look. Work with what you have and sprinkle in cheaper paper goods to create a great party look!
Black & White striped paper cocktail napkins
Orange paper cocktail napkins
Orange tissue paper
4 Green glass wine bottles (saved from before)
Orange tapered candles
Plastic spiders
Paired with my existing white dinnerware, black serving dish, and silverware.