I wanted to scale up my Halloween decorations this year, since I actually hardly decorated last year, at least not in an intentional way. More like, there was Halloween stuff everywhere that didn't actually hang on walls or wasn't purposefully placed. With Damir fully aware of my obsession, I figured having an intentional decor scheme would actually be welcome (thus far, just sideways looks and head shakes).
I had a vision for this particular sign and knew I wanted something vertical. Luckily, I already knew where to find all the parts, so it was more assembly than anything else.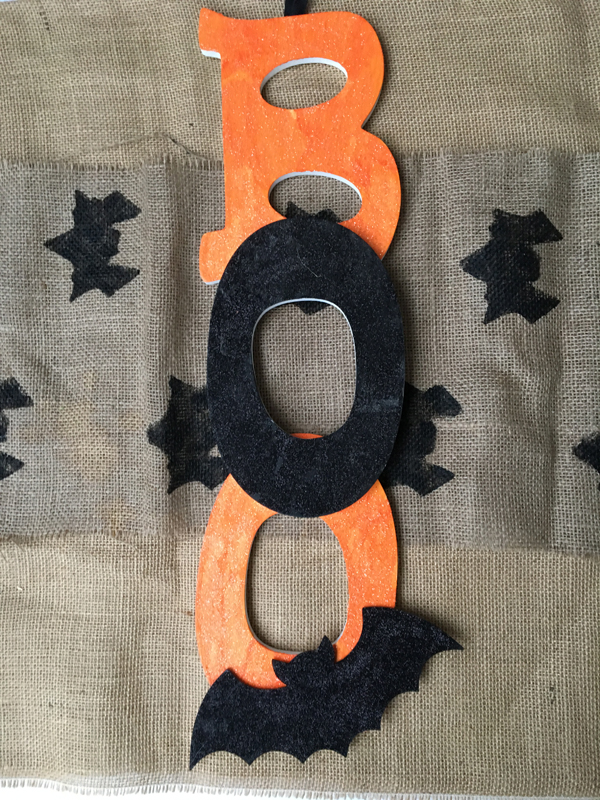 Also shown: Burlap Bat Table Runner
Boo Halloween Art
You will need:
Wooden letters of the word you would like to spell. I found mine at Hobby Lobby.
Wooden Halloween cut out* (I found this bat in Bulleye's Playground at Target for $1!)
Black and Orange acrylic paint
2 Paint brushes
Black and Orange glitter
Hot glue gun
Ribbon in the color of your choice
*Cutouts don't have to be wooden if you cannot find one that works. Felt and tagboard could also be used and are far easier to cut to your desired shape. You could even use a heavy weight paper in a fun print instead!
Instructions:
1. Start by arranging your letters and cutouts in your desired layout so you can identify which piece gets which color. I recommend alternating. In preparation for the next step, set all of these pieces paper or wax paper to collect extra glitter.
2. Start by painting one piece a solid color, then go over sections of the piece so the paint is wet and lightly sprinkling glitter onto the wet paint. Gently brush with your fingers if necessary to even out the glitter application.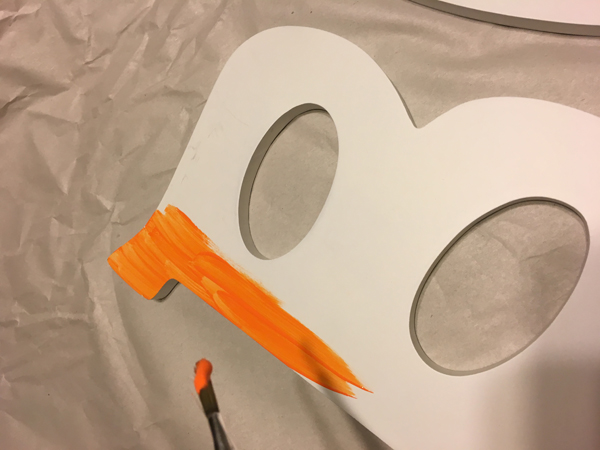 3. Gently lift the newly glittered piece and tap against paper to remove extra glitter and set piece aside. You can re-use any glitter that falls off.
4. Continue steps 2 & 3 until all pieces are painted and fully dried.
5. Reassemble one piece at a time using ample amounts of hot glue. After it dries, gently test the hold, as you may need more hot glue if it didn't adhere fully (due to the glitter).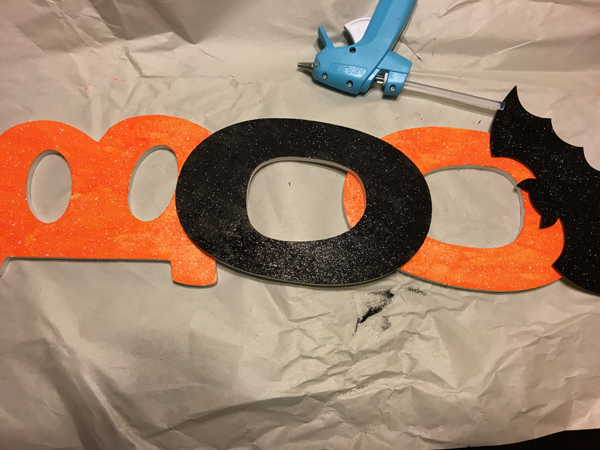 Tip: Make sure your top most piece is oriented towards the back, as you can see with the B. This will keep your cutout art lie flat against the wall.
6. Once the cutouts are solidly glue together, cut a 2-3 inch length of ribbon and glue in a loop from the back of the top letter, and use plenty of glue to make sure it can hold the weight of your art.
Hang and enjoy!