The first Bosnian dish Damir's sister ever made for me was Pita, specifically, Krompirusa. Pita is a traditional Bosnian dish comprised of homemade phyllo dough with filling that is baked and served with sour cream. Fillings include cheese, spinach, meat, and potatoes. My favorite pita is made with potato, or krompir in Bosnian, hence krompirusa.
This particular recipe comes care of Damir, who was making pita for the first time as well!
Bosnian Pita – Krompirusa
You will need:
1 1/2 cups flour (350g), plus more for dusting & kneading
1 egg
1/2 tsp salt (3g)
1/4 cup vegetable oil (50ml)
2/3 cup water (150ml)
3-4 large potatoes, or 6-7 small ones, peeled and diced into very small chunks
2 onions, diced into small chunks
salt & pepper, to taste
1 cup water
1 tbs Vegeta
Sour cream, for topping
You will also want a very large dish towel or cloth. It is traditional to knead and roll the dough on this cloth (covered in flour of course) and it can be used to help flip or fold the dough.
Instructions:
1. Start by mixing together the flour, egg, salt, 2/3 cup water, and half of the oil in a medium sized bowl. Knead together with your hands. Add the remaining oil if more moisture is needed.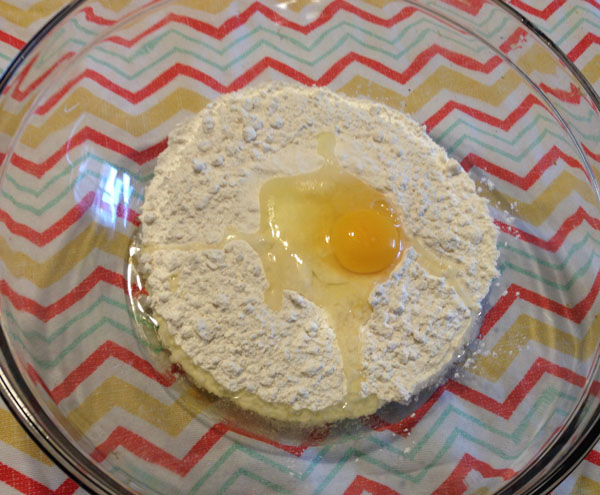 2. Once the dough is thoroughly mixed, knead for 2-3 minutes, adding flour when necessary to prevent it from sticking. You can place it in the fridge for up to 24 hours, or begin to use it right away since this recipe does not include yeast.
3. Cut up your potatoes into very small chunks and dice two onions. Mix in a bowl and season to taste with salt and pepper. Set aside.
4. Many masterful Bosnian women can roll out the dough by picking it up and tossing it like you see people do in pizzerias, except they can get the dough so thin you can see through it, and still not tear it! Damir and I are not masterful… at all, so we stuck with a rolling pin.
Divide the dough into 4-6 small balls of dough, and roll each out individually until it is extremely thin. As you can see here, you can see the pattern of the cloth clearly through the dough.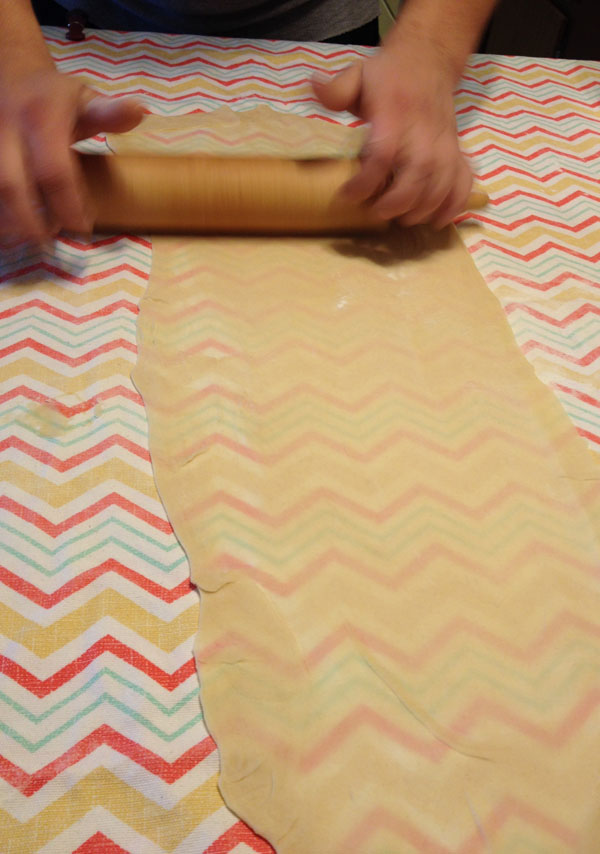 5. Spoon the potato filling into a line on either side of the dough about 1-2 inches in from the edge. Fold the dough over the filling, then add another line of potato, and roll the dough over. Do this on both sides until they meet in the center as two long rolls.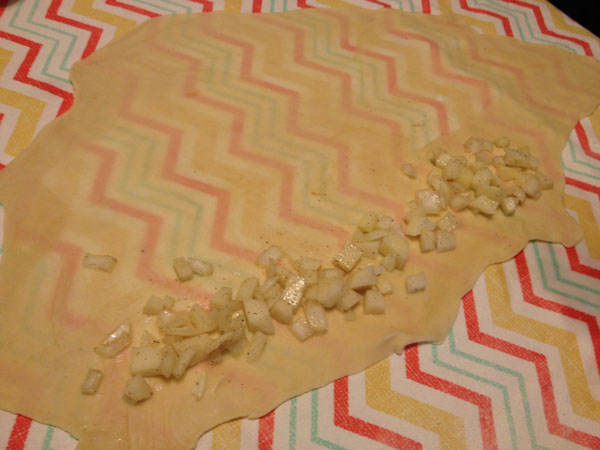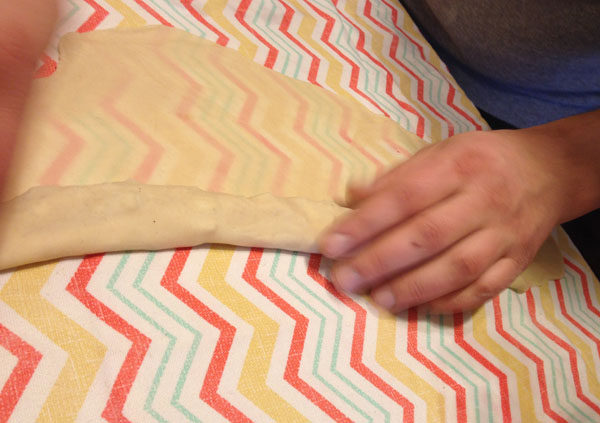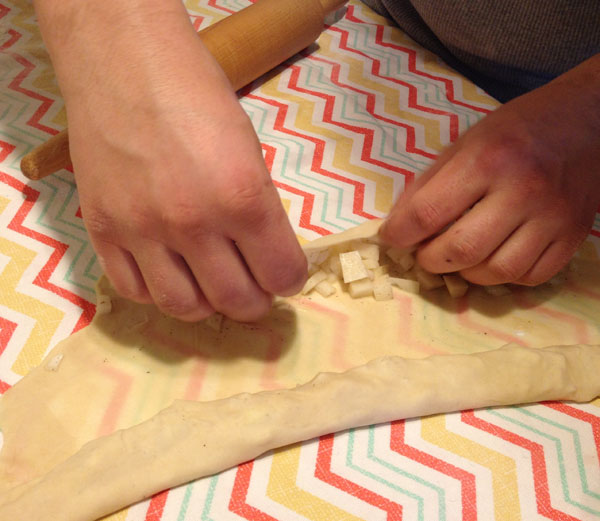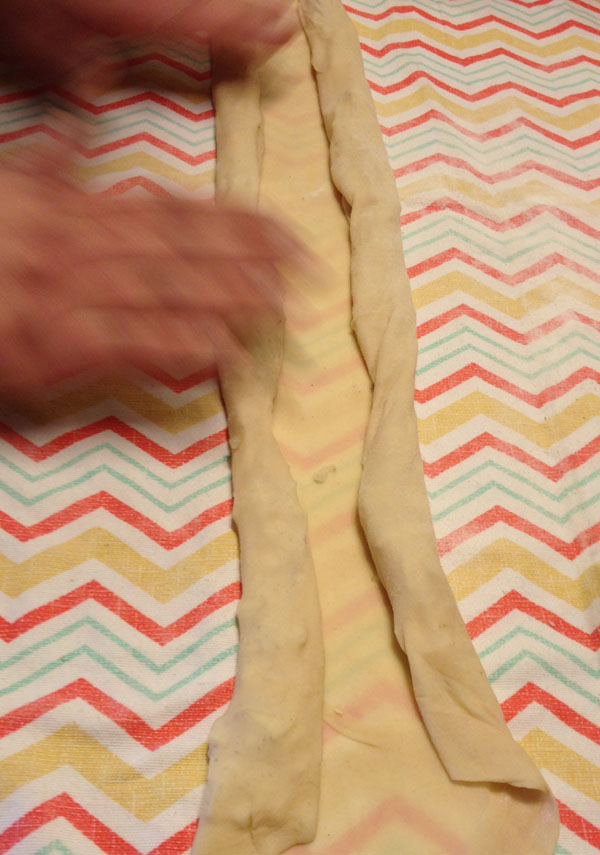 6. Generously spray down multiple baking dishes. Carefully place the dough roll into the pan starting with one end and spiraling it around itself to make one "pie."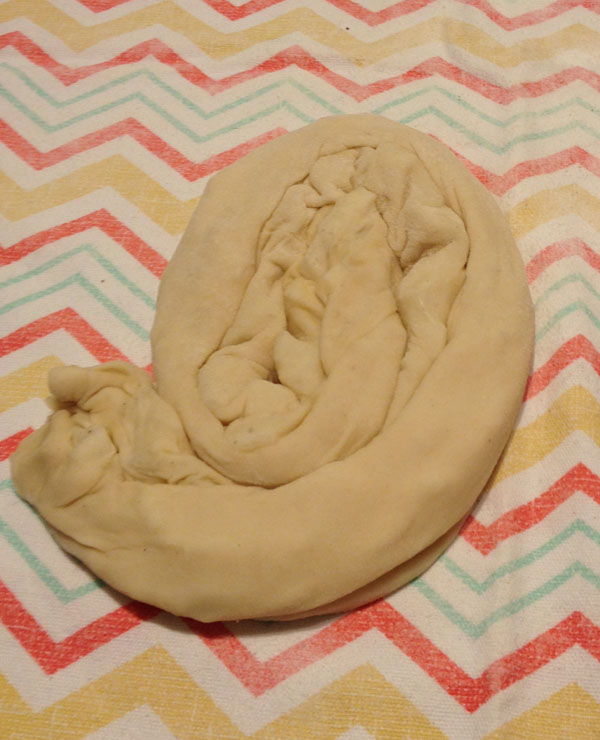 I admit, it doesn't look so hot right now… just you wait!
7. Repeat steps 4-6  until you have used all of the dough. I try to use all of the potato mixture in this process.
8. Bake at 350 degrees Fahrenheit (175 Celsius) for 20-25 minutes, until the tops are starting to brown.
9. While baking, bring remaining cup of water to a boil and mix in vegeta. After the tops of the pita start to brown, pull out of the oven and pour a few spoonfuls of the vegeta water over the pita to lightly moisten. Place pita back in oven for another 5 minutes.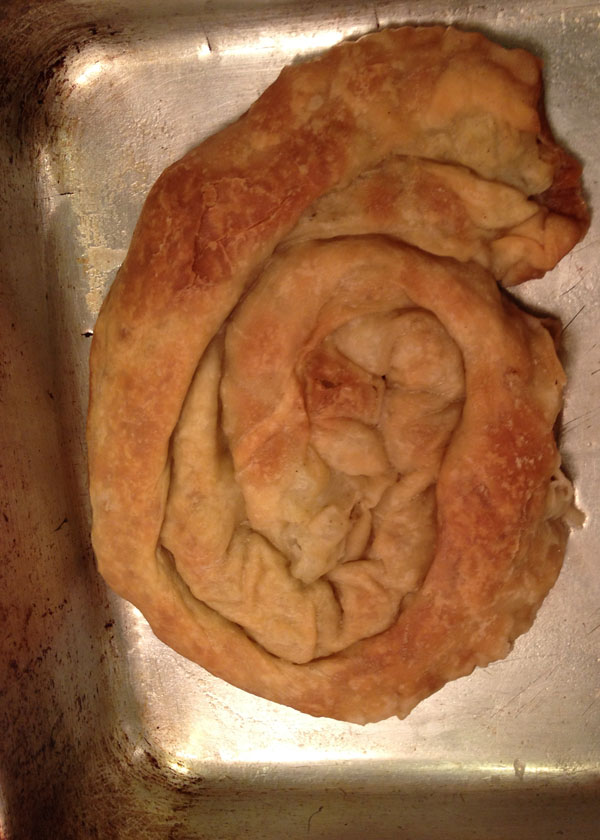 10. Pull out of the oven, top with sour cream, and enjoy!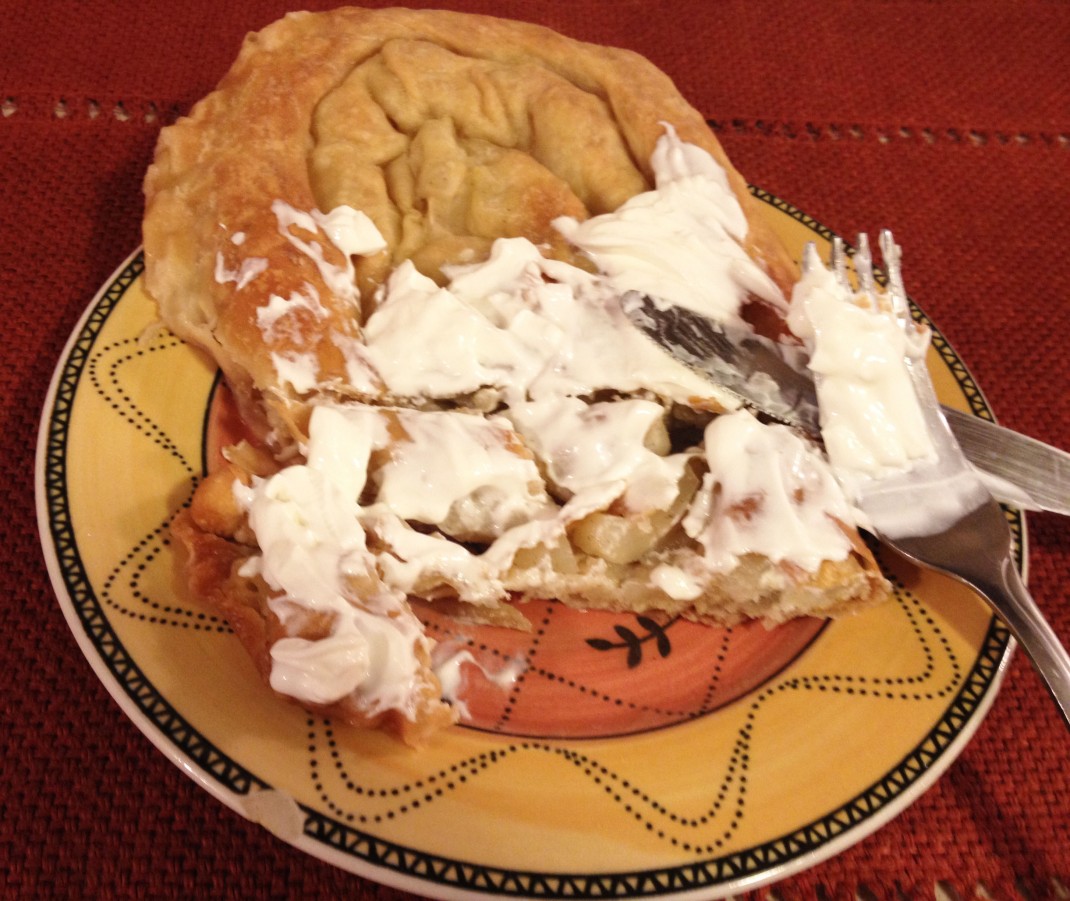 Side note: I know the first time Damir slathered sour cream all over a Pita that I was mildly horrified. Even if you are not a huge fan of sour cream, please don't let it deter you… it is SOOOO worth it! For the more health conscious, plain greek yogurt will do.