This summer, I made a goal that I wanted to try to get back to nature… at least a little bit. I used to go camping with my family all the time when I was little, and I'm no stranger to roughing it in a tent. I even lived out of a tent for two weeks while working at the Sturgis Motorcycle Rally when I was 20. Tenting, however, doesn't agree with my back anymore, I decided to take the comfort factor up a notch and found a cabin out at Palisades State Park, 20 miles from Sioux Falls near Garretson, SD.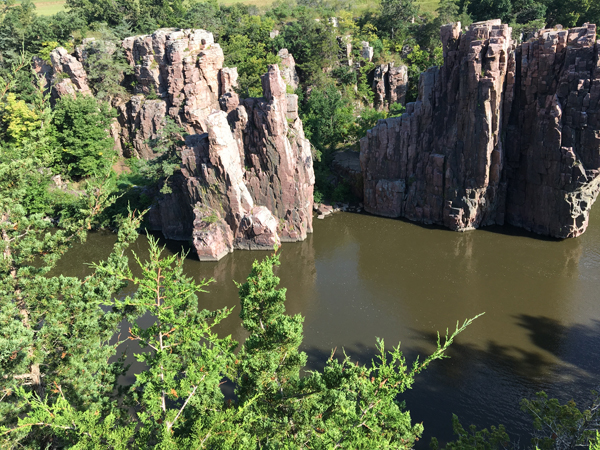 I have to say, I was SO FREAKING IMPRESSED! The cabins book out about 2 months in advance, so it was a while between booking and my stay, but it was only $40 so I wasn't too concerned booking that far in advance. I intentionally booked while Damir's dad was going to be staying with us to have a new activity, but Damir initially shot that down, claiming that "Im not taking my 70 year old dad out into the woods." So I instead planned to make it a girls night out with a new friend, and we immediately latched onto the "glamping" idea.
The Cabin
We weren't sure what to expect, but as soon as we drove up to the cabin we were blown away… a feeling which carried through the rest of the trip.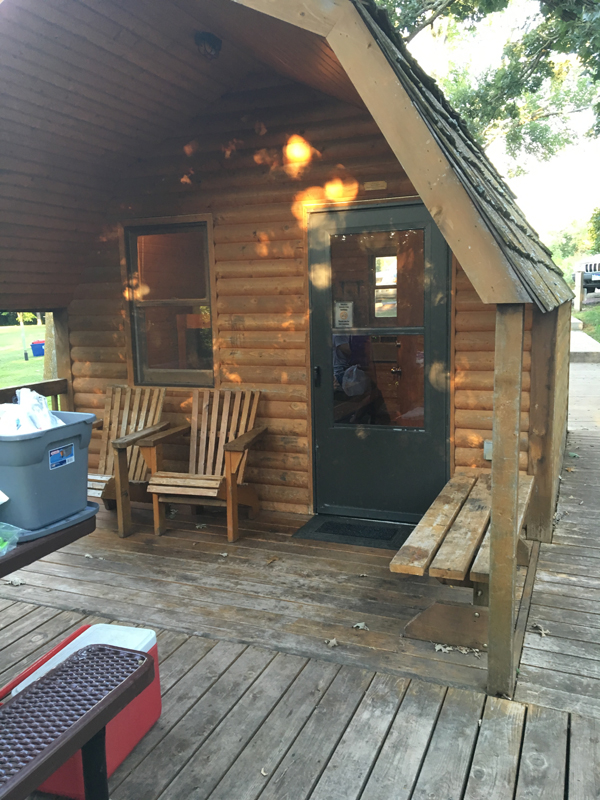 I mean, look at this adorable cabin!!! It came complete with a bunk beds for 4, a little bench table inside, and two adirondack chairs, and a picnic table. Plus, electricity and air conditioning. Glaming indeed!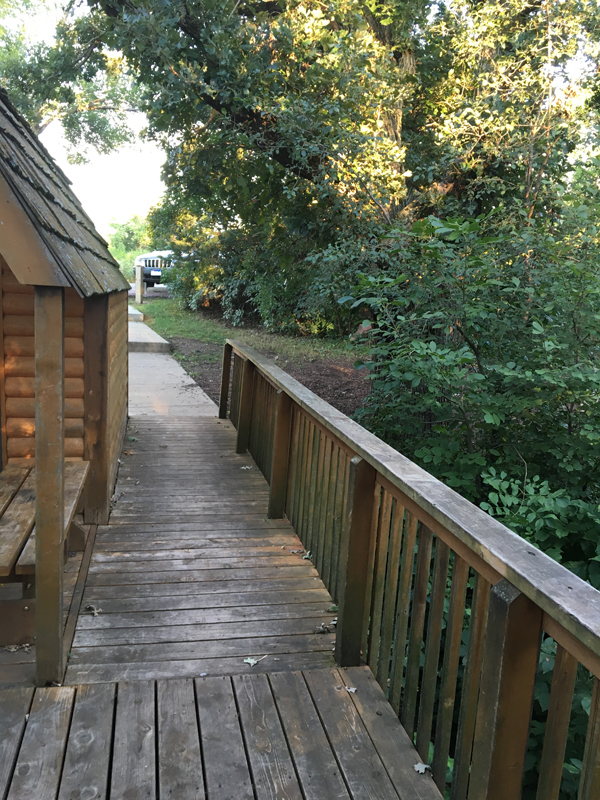 We were tucked back off the main road, and even the fire pit area (just to the right of the path) was nice and secluded.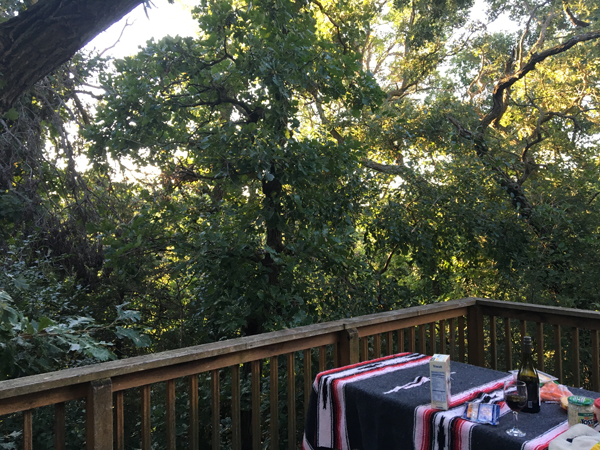 The cabin deck was incredibly private from the rest of the campground, tucked discreetly into the woods. It was so gorgeous, and we had a perfect August afternoon, not too hot with a pleasant breeze that kept the mosquitoes at bay.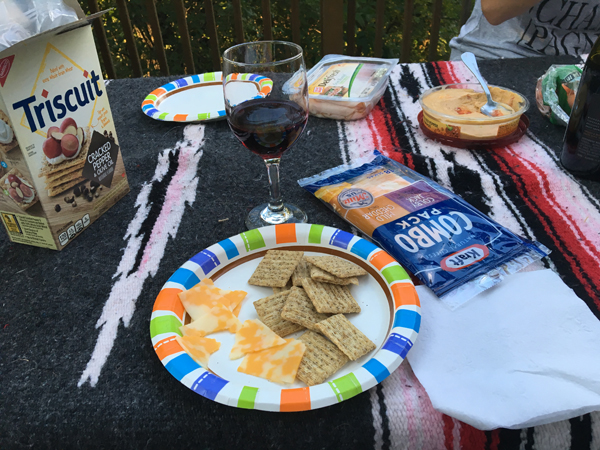 So, glamping, according to Pintrest, is a whole different ballgame to what we did, but I think we gave it a good first go! With wine, cheese, s'mores, and more munchies than we had any hope of eating, we unpacked our spread and basked in the late afternoon sun. It was glorious!
The Fire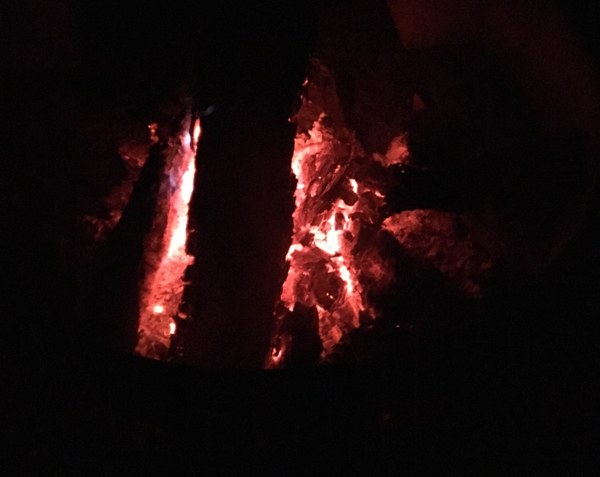 So, we immediately broke rule #1 for camping, which is: Don't wait until near dark to start the fire… especially if you have never started a campfire before!!! I had firewood, a butane lighter, and starter fluid. I forgot about the whole concept of tinder and kindling… whoops. After a few failed attempts, we used our phone flashlights (2nd rule of camping: bring a flashlight!!!) and found the remains of a previous fire off to the side of the fire area and scavenged some charred chunks of wood for kindling, and used napkins as tinder.
We piled the firewood into a teepee shape in hopes that the hollywood fires wouldn't lead us wrong, and finally got our fire going! Call it some primal holdover from the neanderthal ages, but starting and keeping that fire alive gave us an incredible feeling of accomplishment! We basked in the glow of the fire drinking wine late into the night.
Always… Coffee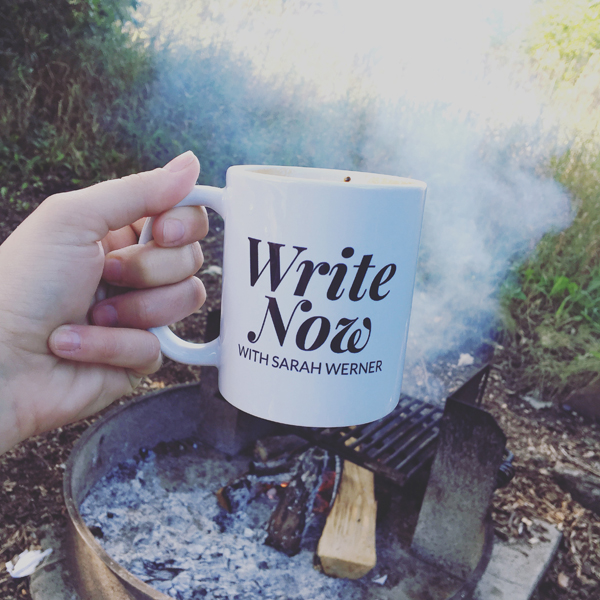 The next morning was just as gorgeous, and we managed to start the fire on the first try.. WOOT! I really wanted to enjoy a cup of coffee with the quiet morning light filtering through the trees. While I wasn't about to start trying my campfire cooking skills just yet, we successfully boiled a pot of water for some instant coffee. I can cook up a storm, but get me on an open flame and I'm proud of marshmallows and boiled water (insert laugh emoji here).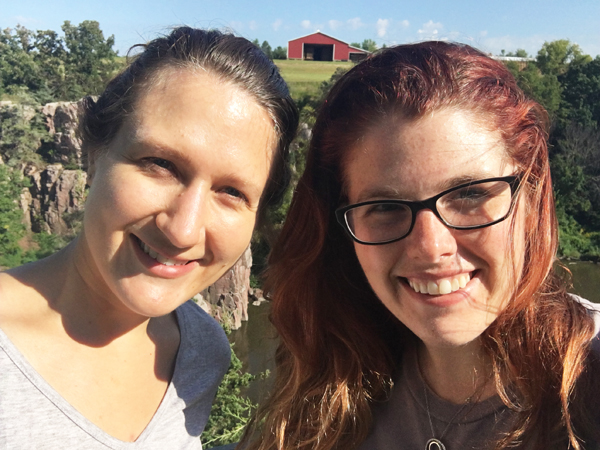 While we didn't leave much time for exploring the trails around the creek and rock formations, we will certainly be coming back to give true "glamping" a try!