Happy Fourth of July! In other news, I have FINALLY made something for Damir that he couldn't get enough of… fruit pizza!!! Damir is probably the pickiest eater I have ever encountered, and that includes the many, many young children I have babysat over the years. While he will at least try everything… he usually gives me the, "not bad" answer for nearly everything. I know he likes it when he says, "it's good." But today, he dug in and polished off 3/4 of this pizza in about 15 minutes and asked if I could make another one tomorrow. My jaw hit the floor for about half a second before I busted up laughing. As they say in Bosnian… I am now "Ready for Marriage." HAHAHAHAHA!
These are surprisingly easy to make, especially considering a full size fruit pizza from the grocery store can run $15-$20! Just make sure you have enough time to bake and cool the crust, and you are golden.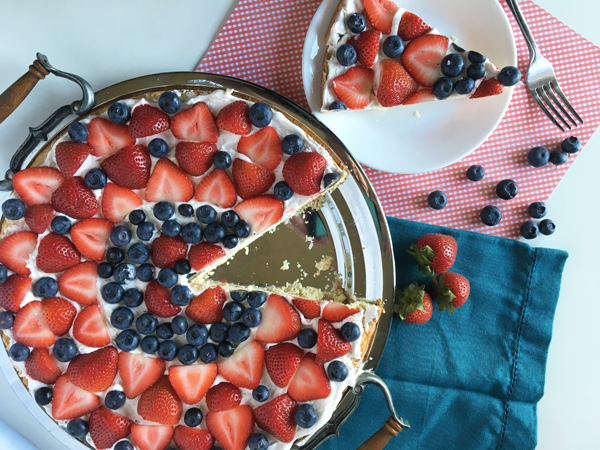 Patriotic Fruit Pizza
You will need:
Crust
1 cup butter, softened
1 1/2 cup powdered sugar
1 egg
2 tsp vanilla
2 3/4 cup flour
2 tsp baking powder
1 tsp salt
1 TBS white granulated sugar
Toppings
2-3 cups whipped cream
Blueberries & Strawberries or fruit of your choice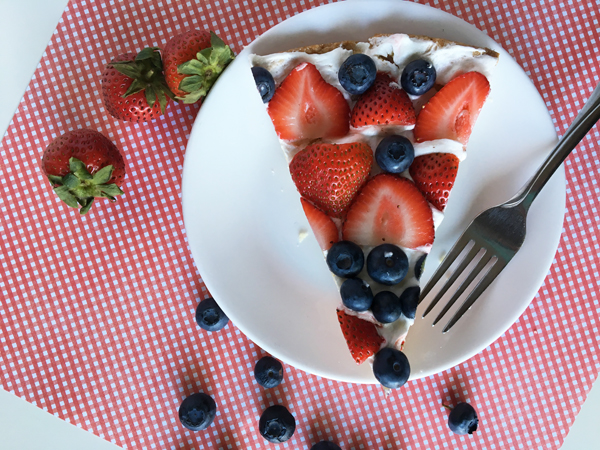 Instructions:
1. Preheat oven to 400 degrees. Use an electric mixer to beat the butter, powdered sugar, egg, and vanilla. Add the flour, baking powder, and salt and beat until combined.
2. Spray a pizza pan or cookie sheet in the shape you want your fruit pizza, and gently press the dough into the pan so it is roughly 1/4 inch thick. You can make the dough in this recipe stretch for two smaller pans if you are looking to feed more people, just press the dough a bit thinner.
3. Bake for 10-15 or so minutes, but continue to check after 10 as each oven cooks slightly different. You want it to be cooked through the center without burning the outside of the cookie. A gentle golden brown around the outside is perfect. As soon as you take it out of the oven, sprinkle top of cookie crust with the granulated sugar.
4. Allow crust to cool completely. I often will make the crust the night before just so I don't have to worry about it. Once cool, spread your whipped cream on top of the cookie. Cut up your fruit and decorate in any pattern you like, cut and enjoy! I Also like to have this prepared about 1-2 hours before serving so the crust is still dry and crumbly. While it is perfectly fine to store in the fridge and eat the next day, the longer you leave it, the softer and more moist the crust will become.