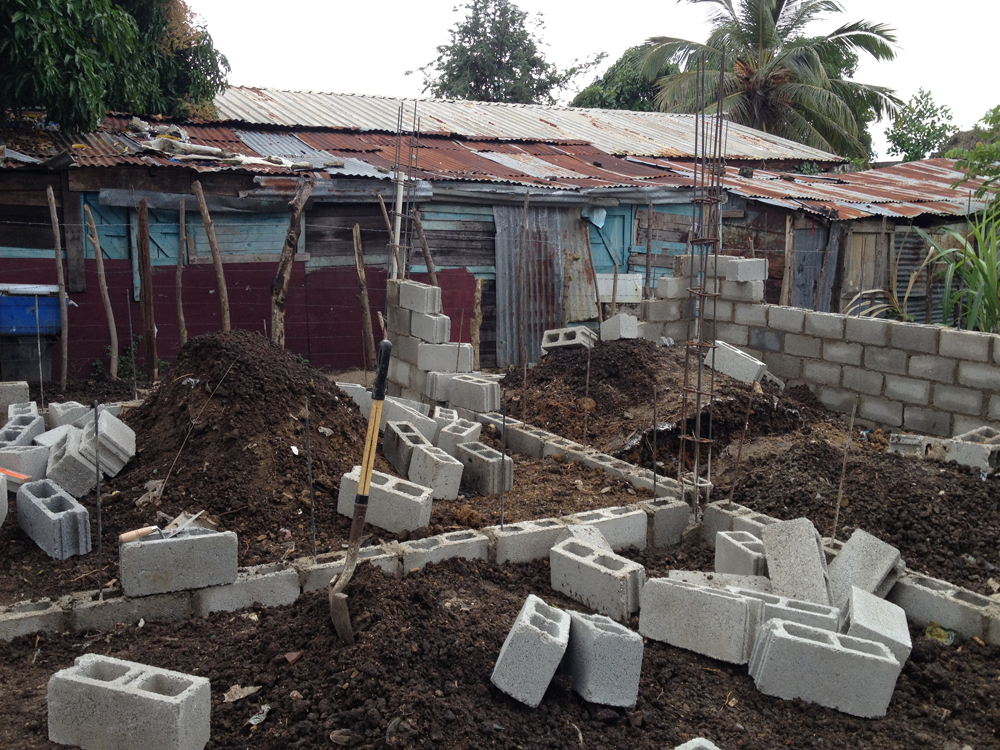 Right after Thanksgiving last year, I was given the opportunity to take a vacated spot on a mission trip to the Dominican Republic for an incredibly reasonable cost, and couldn't pass up such a wonderful opportunity! After my trip to the Pine Ridge Reservation last summer, I had really wanted to see how it differed from international mission trips, and get more experience so I could potentially lead something back out to Pine Ridge in the future.
Getting to the Dominican Republic
This was an adventure in itself. Our trip was scheduled to leave Saturday, January 23rd, coincidentally the same time winter storm Jonas hit the East Coast. The flights were cancelled Friday morning, and the majority of the day was a waiting game to see when we would actually leave or if the entire trip would be rescheduled. Saturday morning, I received the new itinerary and the shocking realization that I may have needed to get additional immunizations… cue panic attack. After researching for about 2 hours, I discovered that I did have the basics covered, that the Typhoid immunization was not even covered by insurance, and that there was no way to get them anyhow before I left at 6am Monday morning. With all of the energy expended on this panic attack, I crashed out for 3.5 hours.
Bug Tip
Upon waking up I went to Walmart and cleaned out their travel sized bug spray in an attempt to spare myself from exposure to Zika, which had reported cases in Santo Domingo, where I was headed. Quick tip if you are traveling to an area with bugs… get Permethrin and soak your clothes and bedding in it! This and bug repellent wristbands. I made it through the trip with only 2 bites total. Not bad!
I also credit the citrus essential oils my roomie sprayed around the room… she is deathly afraid of spiders, and apparently spiders cannot stand the stuff. It also smells great, which is a nice added benefit.
Arriving
With the thousands of flights rescheduled, I ended up leaving Sioux Falls at 6am, and arriving in Atlanta without any further tickets. A quick reschedule yet again, and I flew up to JFK International Airport in NYC where I had a lovely 4.5 hour layover. My travel mates who I was meeting up with at JFK were not so lucky. After delays made them miss a connection in Minneapolis, they were re-routed through La Guardia Airport in NYC, where they arrived at 5pm and had to get through Queens on Monday's rush hour traffic. They didn't make it to the airport in time to get on our 8pm flight, and had to be rescheduled for the next day, which was a huge bummer!
The rest of us boarded the 4 hour flight and arrived in Santo Domingo just before midnight, and took a fascinating drive along the coast through deserted streets to the Mission Center, where we were staying for the week.
Hatians in the Dominican Republic
There is actually a really interesting history in the Dominican Republic. I may botch some of it, but I believe most is pretty close! Quick overview… Haiti and the Dominican Republic border one another on the same island. 500+ years ago, Christopher Columbus landed on the island, and one of his ships was destroyed on the rocks. They were rescued by the indigenous population, and they had a fantastic relationship with these people. He left half of his crew in a camp with them and returned to Spain with the promise of returning in a year, which he did. Upon returning a year later, the camp was deserted, and the relationship with the locals soured. Due to disease and many other factors, within a few short years, there was nothing left of this indigenous population.
Haiti was settled by the French, and the Dominican was settled by the Spanish. Both wanted to capitalize on the sugarcane trade, as it was plentiful, but needed workers since the existing population was dwindling quickly. (this story is starting to sound familiar, right? Guess where they found workers?) Yep, you are right. Africa. The United States was not alone in it's slave trade, and the populations of both Haiti and the Dominican are heavily rooted in African history. In 1791, Haiti's slaves led a revolution against France and won their independence. Haiti then took over the Dominican Republic, who won their independence from Haiti in 1844.
Because of this history, there is a lot of tension between the two countries. Haitians looking for work were sent to the Dominican Republic to work the sugar cane fields where there were jobs. They worked in substandard conditions and lived in substandard housing, but for them, it was an income. Many worked hard to eventually bring their families to the DR with them. The problem is that they live in a world where they are second class citizens due to their country of origin. Its a growing problem, since the DR does not have naturalization. This means that even though many of these people have lived their entire lives in the DR, even up to three generations, they do not have a country because they were not born in Haiti, but are not accepted by the Dominican Republic. This effects their access to health care, education, the justice system, and quality of life.
Getting to work
The next morning after a quick breakfast, we headed out to the work site. The overall goal of the trip was to build a home for a pastor in a Haitian community on the outskirts of Santo Domingo. He currently lived 4km from his community, and had been mugged 4 times in the last year alone as he walked to his community. This home would be right behind the church, and would provide him much greater access, as the pastors here play a pivotal role. For medical emergencies, those who find themselves on the wrong side of the law, deaths in the community… all of this falls to the responsibility of the pastor to assist with and this move would make it much easier.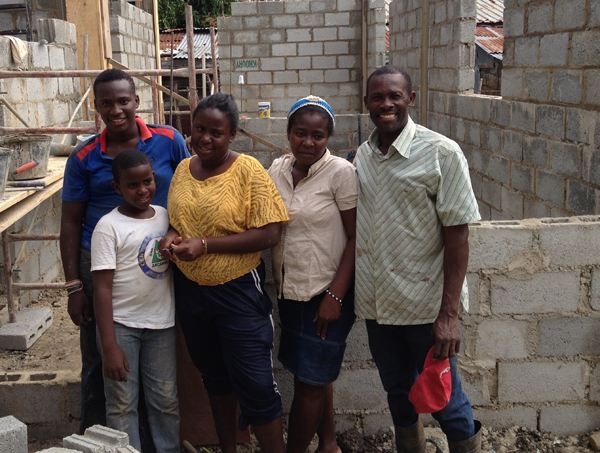 The Pastor (far right) and his family. The littlest boy, George, has a stellar work ethic and carried buckets of mortar, blocks, and mixed concrete with the best of them!
Day 1
When we arrived, there was just a rough outline of the property in concrete blocks. We were set to work cutting rebar, splitting blocks, and laying mortar for the next row. All of the mortar and concrete were mixed by hand with shovels, no machines here!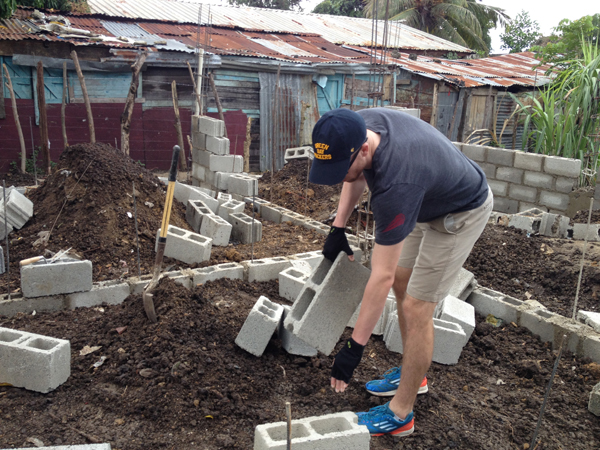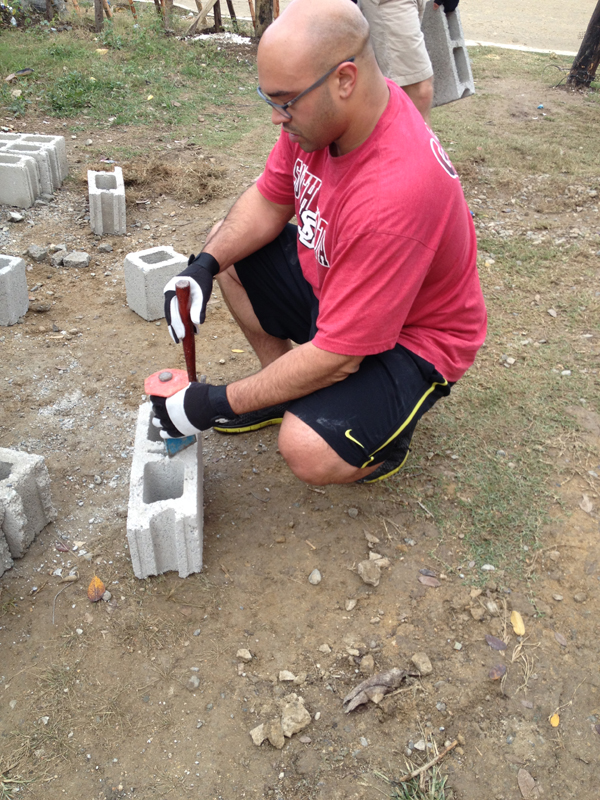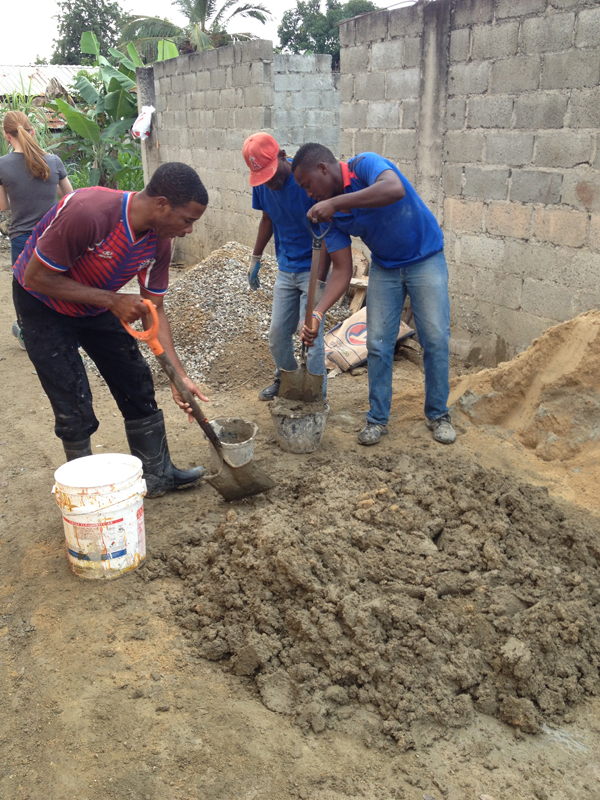 I immediately jumped in with Leo, who was our Canadian companion, and a seasoned veteran in these types of construction projects. I would cruise ahead and lay mortar, and he would follow behind laying the blocks, and a third person would fill in the gaps between the blocks.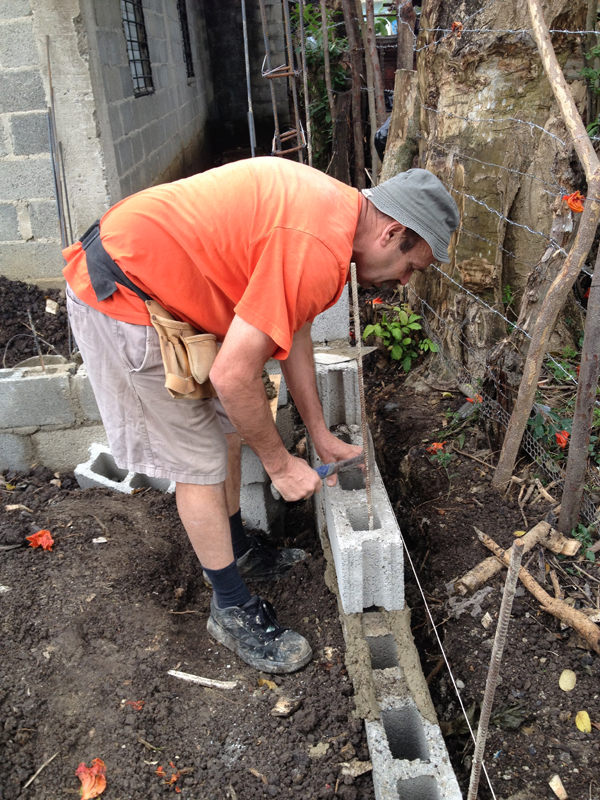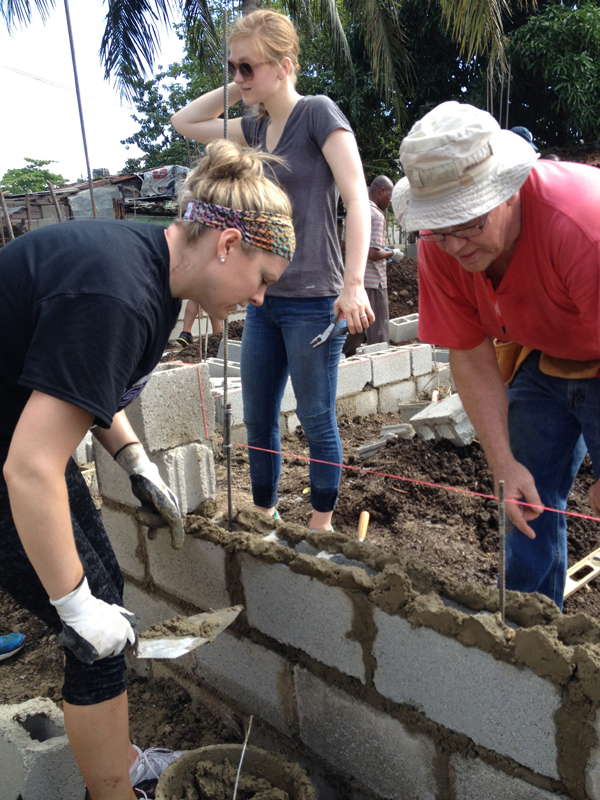 Day one was the most impressive in terms of how far we got, just from the perspective of going from next-to-nothing to having a hip-high walls.
Day 2
On Day 2, we took a detour on the way to the job site past a community next to the landfill. This community does not have official jobs. Instead, they work in the landfill, digging through the trash to find valuable metals or other materials. These are then weighed and they are paid for the value.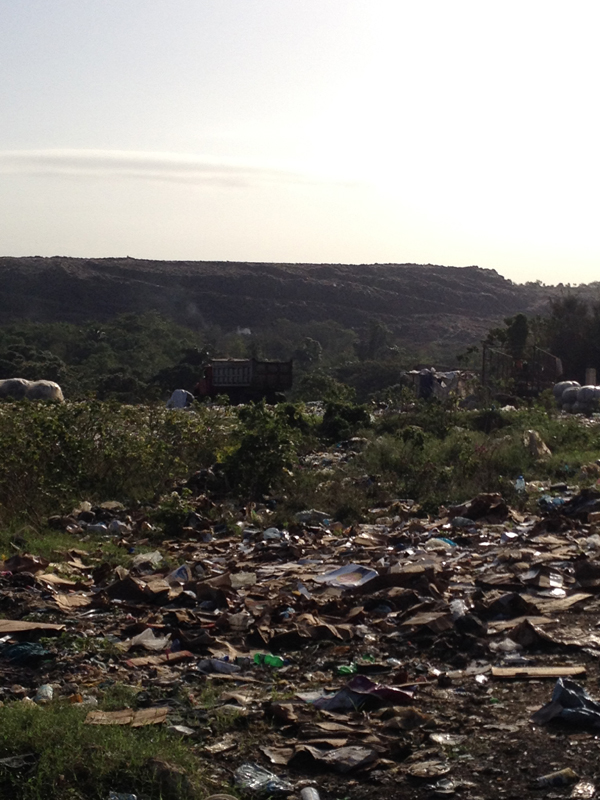 That bluff off in the distance… is completely made of trash. If you look closely, you can see people standing on it as they search for valuable materials.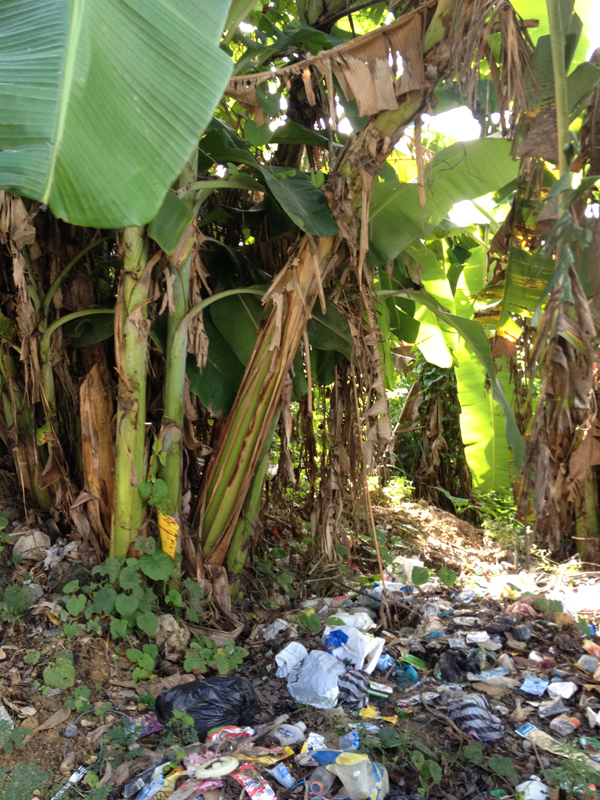 Even at the job site there was plenty of trash, and this is common when you get off of the resort areas. They just don't have the infrastructure to pick up trash, so it is dropped and left behind.
It was incredible to see such beauty covered with so much trash. I also saw children running around topless, with orange streaks in their hair from malnutrition and rings on their bloated bellies. This was perhaps that hardest part of the entire trip for me. The drive to the job site was a quiet one.
Due to the need to speed up our work, I learned how to build corners and lay blocks for myself. It was interesting as well because our group nearly doubled in numbers from local men who jumped in to help with construction.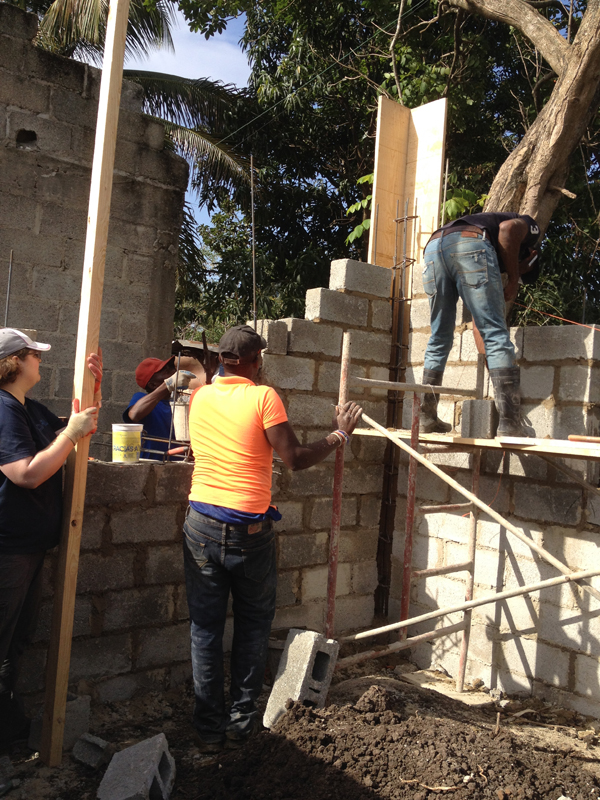 It was strange for some of them to see women doing heavy labor, and it wasn't uncommon for them to carry heavy objects for us, or to assist with a project and slowly start taking over. I actually didn't mind this as much as I thought I would. For one, they were far more efficient at building the walls, and there was still so much I could do. Second, I couldn't explain to them that I didn't mind in Spanish (many only spoke Creole), and if it made them feel better that is ok with me.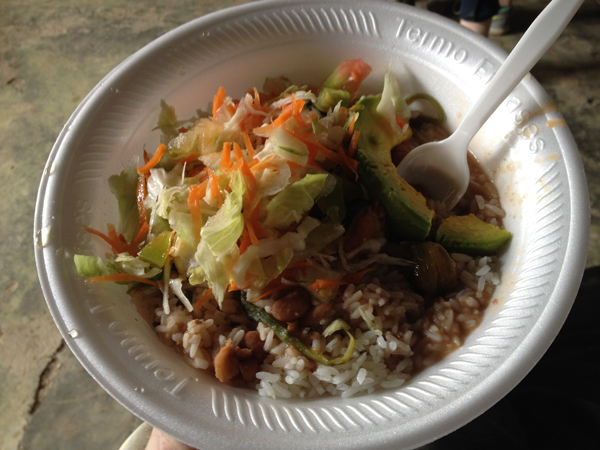 We had a fantastic meal each day cooked by the local women, and after lunch a lot of the town turned out to watch the activity. The children had school in the mornings, and they came out en-mass afterwards. We had coloring books and a soccer ball and took breaks from construction to spend time with them.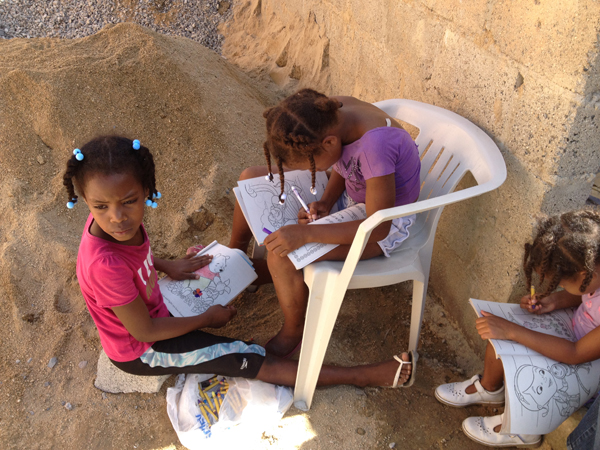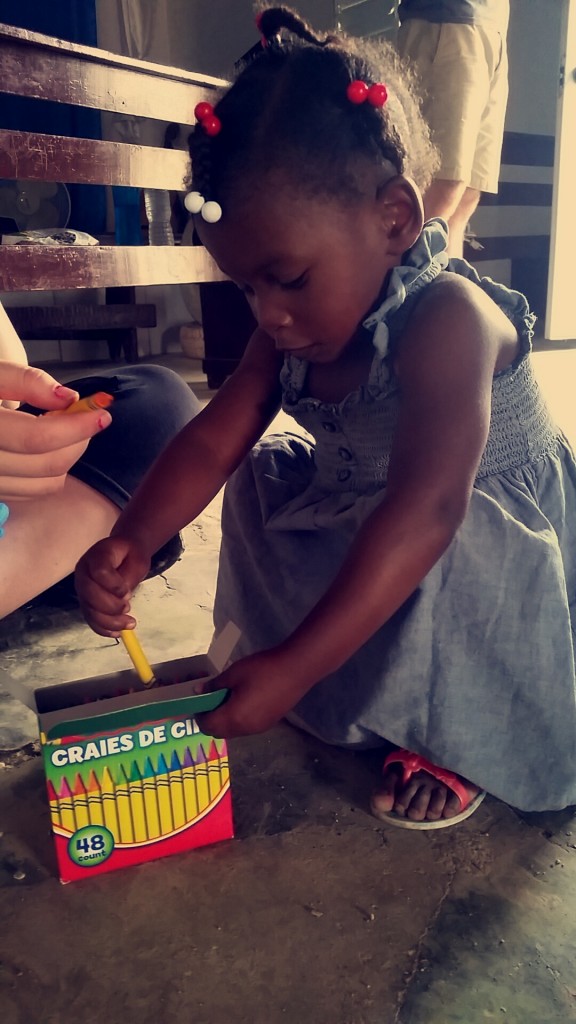 I made a new bestie in Lilliana, who was 8 years old.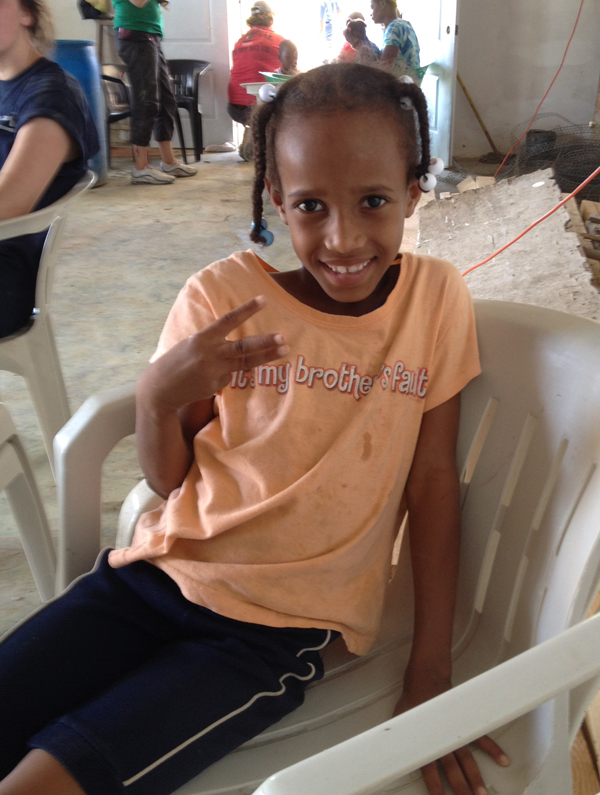 Day two, we also started pouring concrete down the blocks along the rebar to re-enforce the walls, as well as we poured our first corner block! The walls had to be at their final height to do this, and with limited supplies to build the columns, it was important to get as many done from this point forward as possible.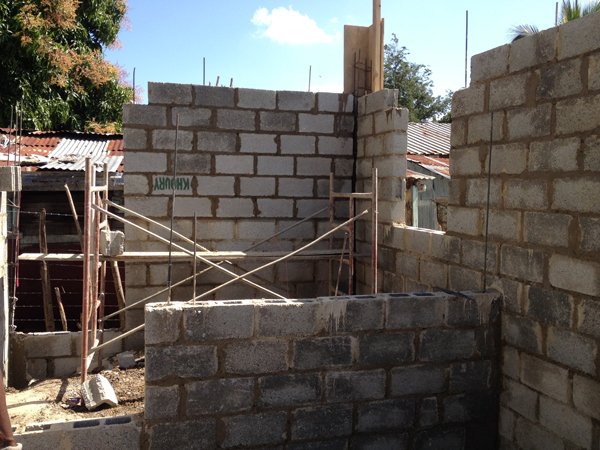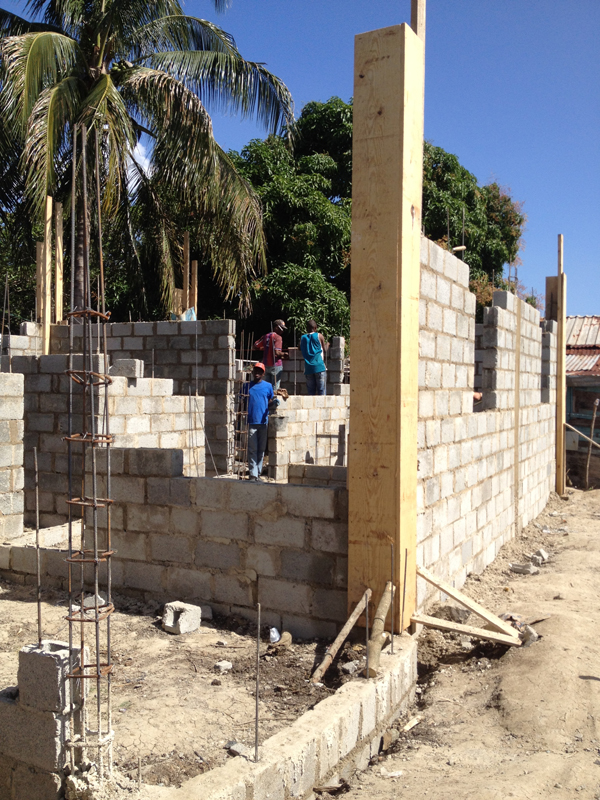 Day 3
Day three we finished two more walls and were able to pour two more concrete columns just in time to end early for the day. After cleaning up, we took a tour of the colonial district, which had such beautiful architecture.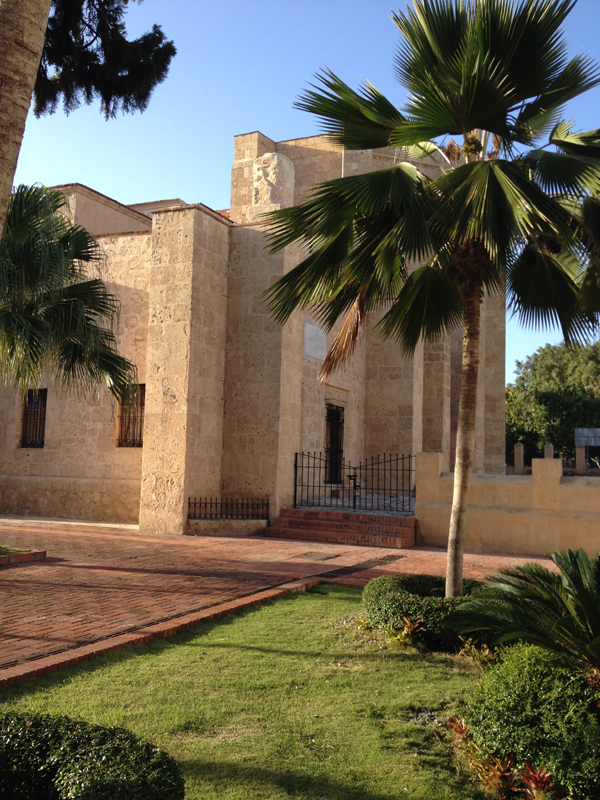 I did find it a little interesting that they had a statue of Christopher Columbus in front of a church he had founded 500 years ago… just considering the history.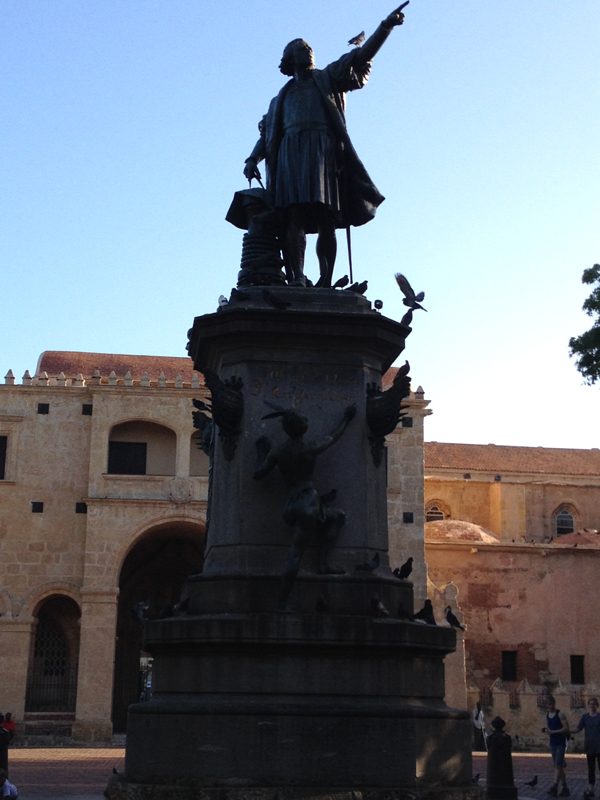 That said, we were able to check out the local shops for souvenirs, and see the local art. If I had had the means to transport this art home, I absolutely would have! I love love loved this patterned artwork of the crowd, which was created by a Haitian artist.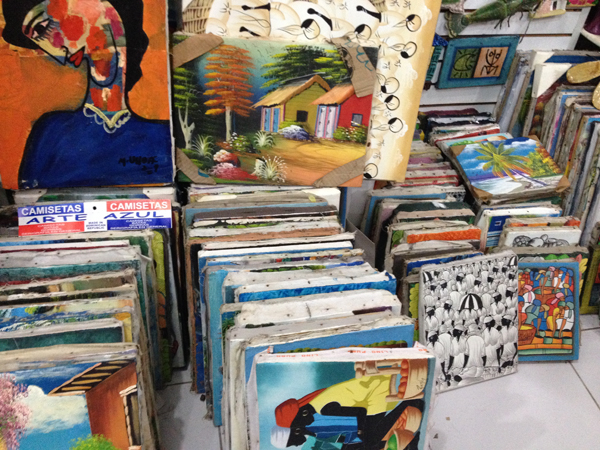 The pattern I loved was the black and white one in the bottom right corner.
Day 4
This was tough, since it was our last day on the job site due to the shortened trip. We powered through as much as we could, and did manage to get the final columns poured, which was our goal. We were able to celebrate with the community, which had a great showing. There were so many people that you could hardly walk from one side of the church to the other. We had a huge group present for the final photo, and I gave Lilliana one last bittersweet hug.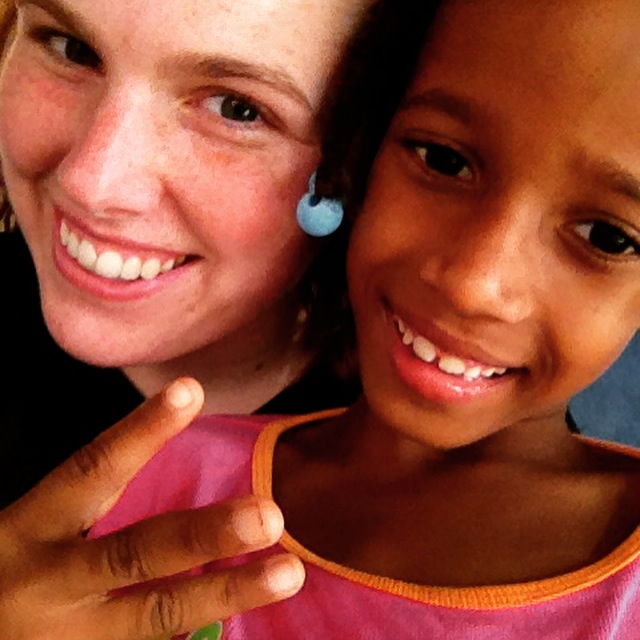 The hardest part of this was leaving the kids behind. For those of us that knew Spanish, they asked us how much it cost to go to the United States. They asked if they could come with us. Total strangers. It breaks my heart to see how little they have, but how little they let it effect them. How their community is so banded together to take care of their own.
Heading Home
Finally, we were headed home. My bunkmates and I stayed up way too late talking, so our 4am wake-up  (2am at home) came way too soon. A rushed and slightly hectic boarding, and we were headed back to the U.S. Upon arriving at NYC, I switched my flight so I wouldn't have to transfer from JFK to La Guardia… I'd had enough of travel drama at that point, and had a travel buddy back home! I finished my third book of the trip, nearly left my tablet on the plane in Atalanta (thanks to the Delta employee who went back on to get it for me!!!) and arrived home and exhausted at 9pm.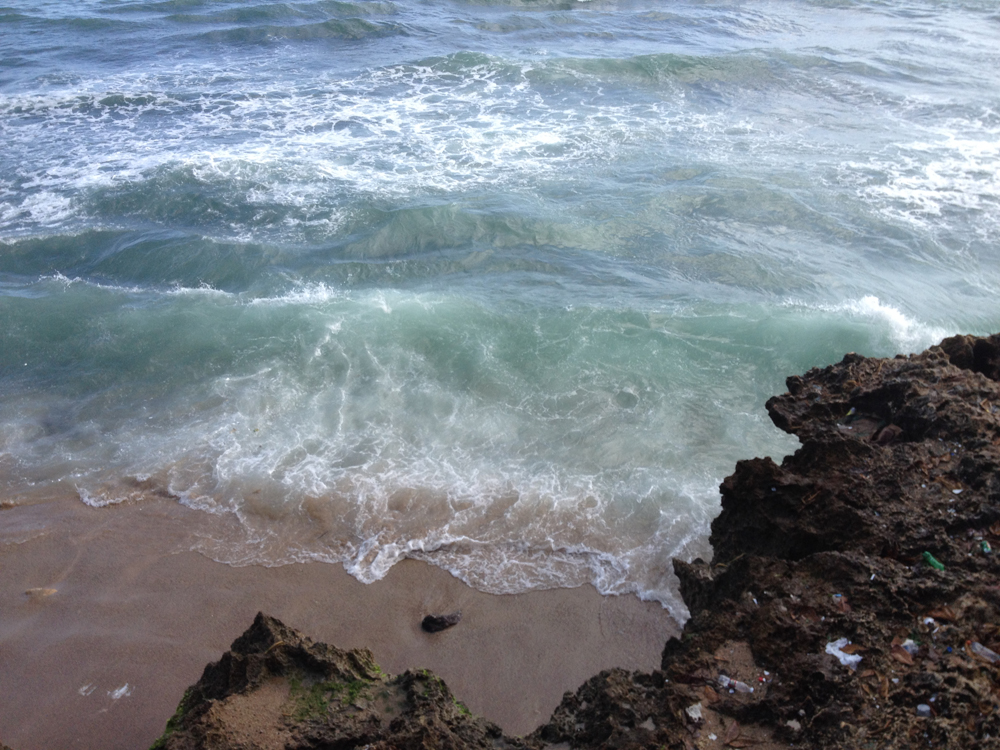 Takeaways
While the Dominican Republic is such an incredibly luscious and beautiful country, I felt that the trip was not quite as powerful to me as my trip to Pine Ridge. I'm not quite sure why that is… but it was my impression. Perhaps it is because Pine Ridge is literally in my back yard. It could also be because I see how much their community matters to them in the Dominican Republic. These people band together. They are all that they have, and they protect and care for one another. They don't have a lot, but they do have incredible amounts of love and faith, which left me feeling far less desolate at the end of my trip.
That said, I am so incredibly thankful that I was able to visit the Dominican Republic and I learned a lot about what I really value out of the trip dynamics. I still have hope that I can make it back to Pine Ridge soon, and hopefully bring others with me next time around!