This was a really fun way to turn an old tablecloth into enough place mats for all 12 people present at our Christmas dinner. It all started with our plan to find a plaid tablecloth. My mom, being the mini hoarder she is, just happened to have a beautiful old tablecloth that was the perfect plaid. I was pleased for all of a day before I realized just one would not cover the two tables we would need to seat our whole family.
Thus the idea to create place mats! The tablecloth was just big enough to do 12 place mats which would look lovely against my mom's beautiful dining room table. But we still had the dilemma of how to make the plan work for the entire table setup, which included a card table set up at the end of the dining room table to accommodate all guests.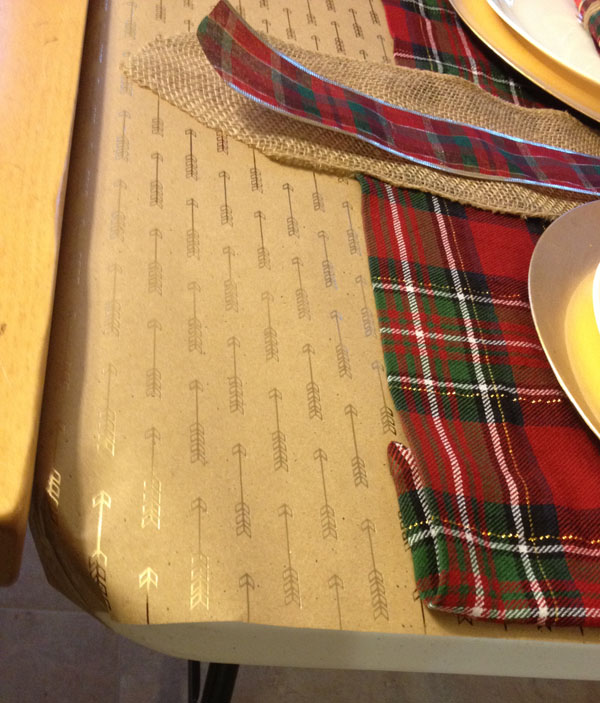 The answer? Wrapping paper!!! We found a lovely butcher paper and arrow printed paper that gave the card table the same vibe and carried the decor theme very nicely. I might even experiment with the idea of wrapping paper vs. tablecloth again next year. Its so much cheaper and available in so many different patterns. Best part? You don't have to store a tablecloth you might never use again (mom) and it makes cleanup nice and simple.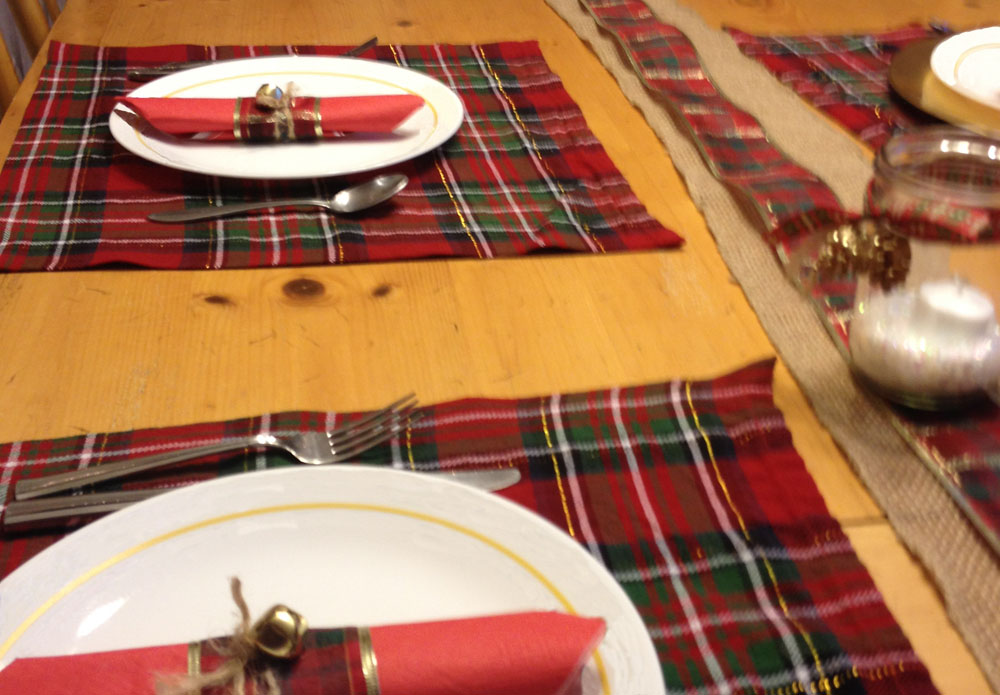 No Sew Place Mat DIY
You will need:
Fabric or tablecloth that is at least 48in x 80in for 12 place mats.
2 rolls hem tape
Iron & ironing board (or a towel to place over ironing surface)
Scissors
Measuring tape
Instructions:
1. Lay out your fabric, and measure and mark every 20 inches down the long side of the fabric, either by using a pencil or by cutting a small slit to mark. Cut across to get 4 strips of fabric that are now 20in x 48 in.
Note: you can adjust these measurements as you see fit. I went with this since my mom's tablecloth was a perfect 48x80in rectangle, but you can certainly take an inch or two off each if you will have a more cramped table setting.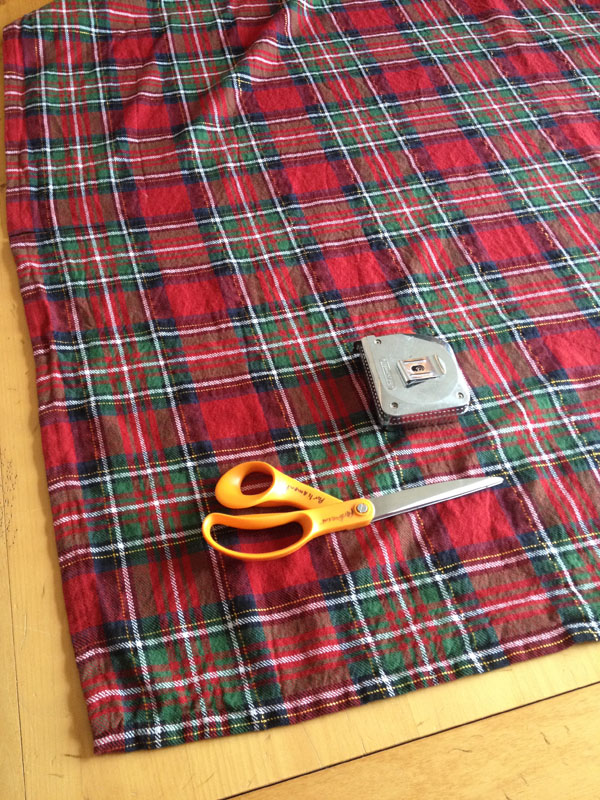 2. Next, measure the long end of each strip and mark every 16 inches. Cut across the fabric to result in 3 pieces per strip, for a total of 12 pieces that are now 20in x 16in.
3. Preheat your iron. Starting with your first piece of fabric, tear off a piece of hem tape the length of one side of the fabric. Place along the edge, and fold over so completely covered, then iron until the tape has bonded. Do this for the remaining edges of the fabric.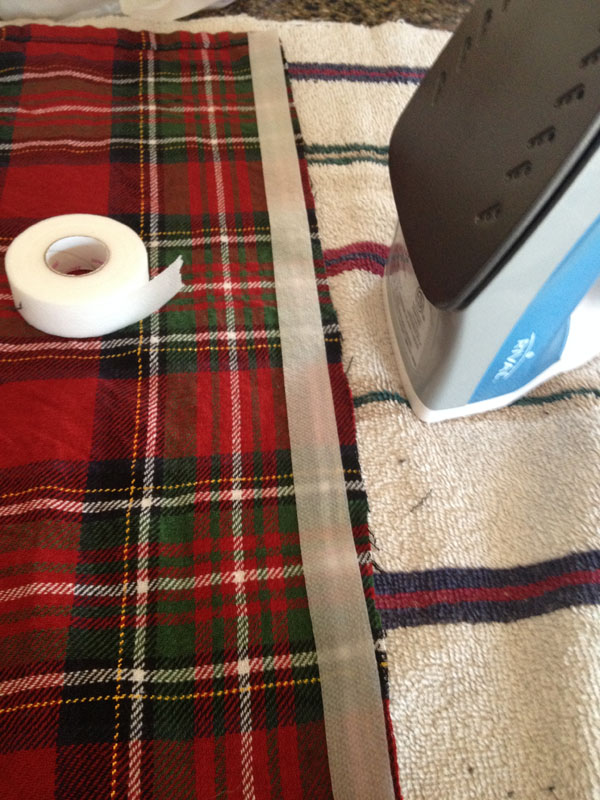 Note: If you did use a tablecloth, you can simply leave the previously hemmed edges as they are. You may then want to trim the opposite side down by roughly .5 inch just to accommodate, or leave as is if you are not concerned with slight size variation. If you think the hem will be too noticeably different, trim it off before you measure and cut your pieces.
4. In each corner, cut the excess of double folded fabric out of the way by slicing diagonally into the corner.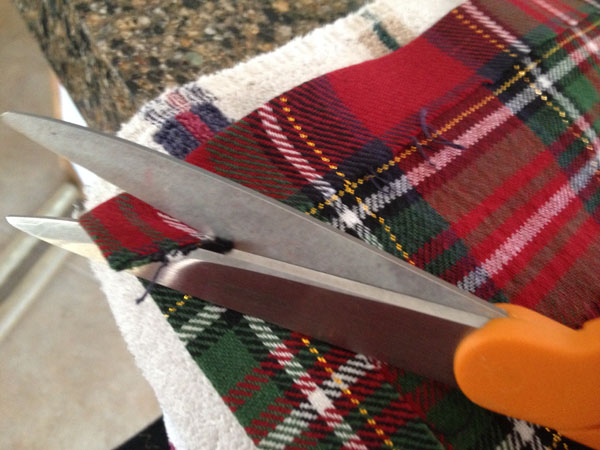 5. Complete for all remaining pieces. Get a glass of wine and put on some carols, it takes about 45min to an hour.
6. If you wish, iron each of the new place mats to remove wrinkles.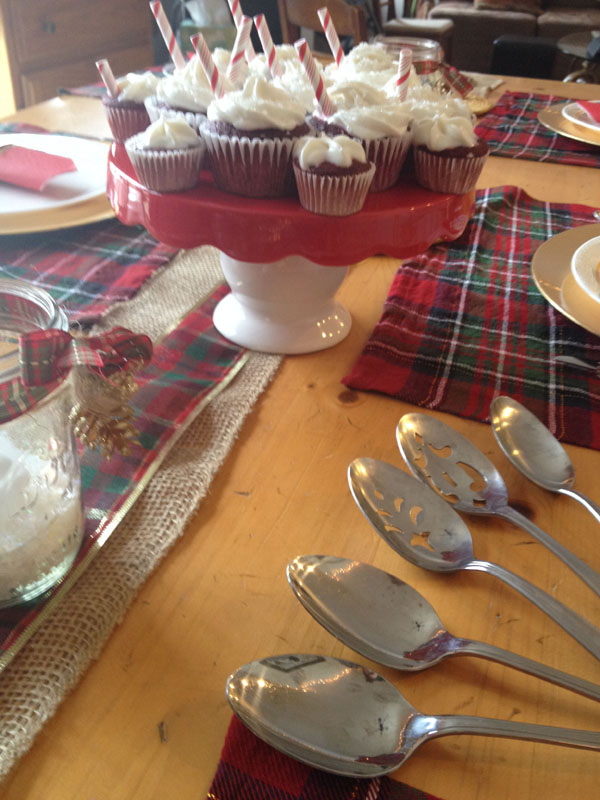 Love those North Pole Cupcakes? So did we!