Its already mid December and I find that other than putting up my Christmas tree (and copious amounts of Peppermint Puppy Chow), I just really hadn't embraced my inner Christmas Spirit until last Thursday when I went out for Beer & Carols at a local bar. It was just wonderful to hear a whole room full of voices singing carols along with the live band, and I was inspired to make Christmas carol themed decor for the apartment!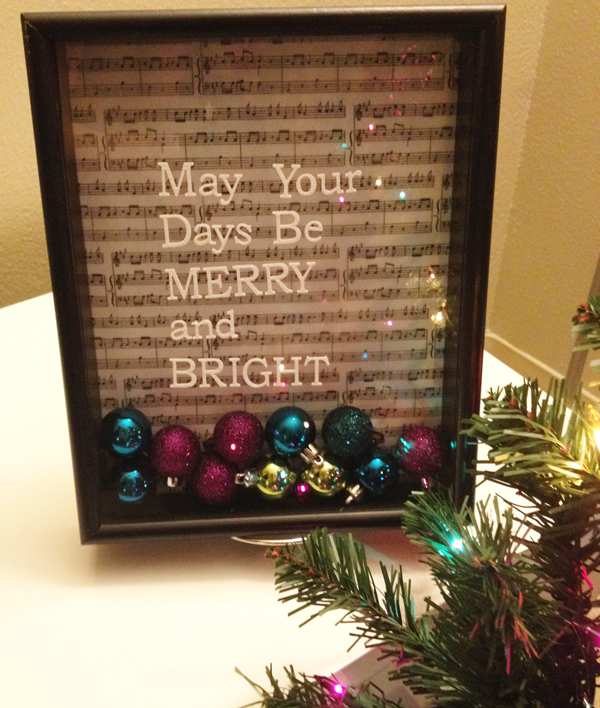 Christmas Carol Shadow Box Artwork
You will need:
1 8 x 10 inch shadowbox frame
1 sheet of semi-transparent scrapbook paper in an music note print
10 or so small Christmas bulbs small enough to fit in the shadow box, in the color of your choice
Scrapbook letter stickers, get enough to spell the carol phrase you wish to use! I was able to get by with just two packages for my phrase.
Double stick scotch tape
Instructions:
1. Start by applying the stickers on the front of the shadowbox glass to spell out the Christmas carol phrase of your choosing. It may help to first write this out on piece of scrap paper cut to the same size as the glass so you can get an idea of how you want it spaced out.
2. Remove the back of the shadow box and any fabric that might be attached (mine had a black foam) and tape the music note scrapbook paper to the backing. Trim away any excess paper from the edges.
3. Fill your shadowbox with the ornaments, and close up the back.