Ok, I have touted Weight Watchers points for a few recipes now… for this one, just don't worry about it. Trust me, you don't want to know. (Shhhh, its 8 for 12 servings, don't tell) Just close your eyes and devour this incredible dish. Because no one counts calories on Thanksgiving, right? Nobody is that big of a masochist.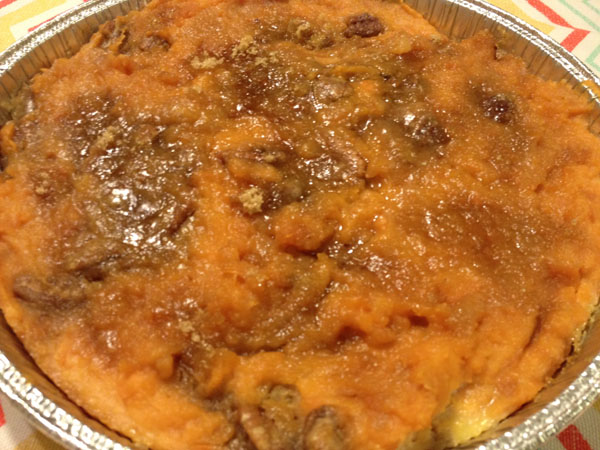 Sweet Potato Casserole
Ingredients:
Sweet Potatoes
2  29oz cans of sweet potatoes
1/4 cup butter, melted
2 Tbs white sugar
Pinch of salt
2 Tbs brown sugar
1 Tbs orange juice
2 large eggs
2 tsp vanilla extract
1/2 cup whole milk
Topping:
2 oz pecan halves
2/3 cup brown sugar
1/4 cup white flour
1 tsp vanilla extract
1/4 cup butter, melted
Instructions
1. Preheat oven to 350 degrees. In a large bowl, add sweet potatoes, butter, sugar, salt, and brown sugar and combine with an electric mixer. Add orange juice, eggs, vanilla and milk, and mix well.
2. Spray your baking dish and spread the potato mixture evenly in the bottom.
3. Mix the topping ingredients and spoon over the potato mixture.
4. Bake for 30 to 35 minutes.