Continuing with my pumpkin addiction…. I have seen a ton of recipes for pumpkin pancakes floating around in recent days… but I feel a good number of these complicate what could be a super healthy and simple breakfast! Sometimes, simplicity is better, and not to mention… easier. Its a simple as four ingredients (technically five if you count a full egg and egg whites separately).
This is a single serving recipe, so multiply accordingly! Makes about 4-5 small pancakes. If you are on WW, it comes to 4 Points+ before toppings.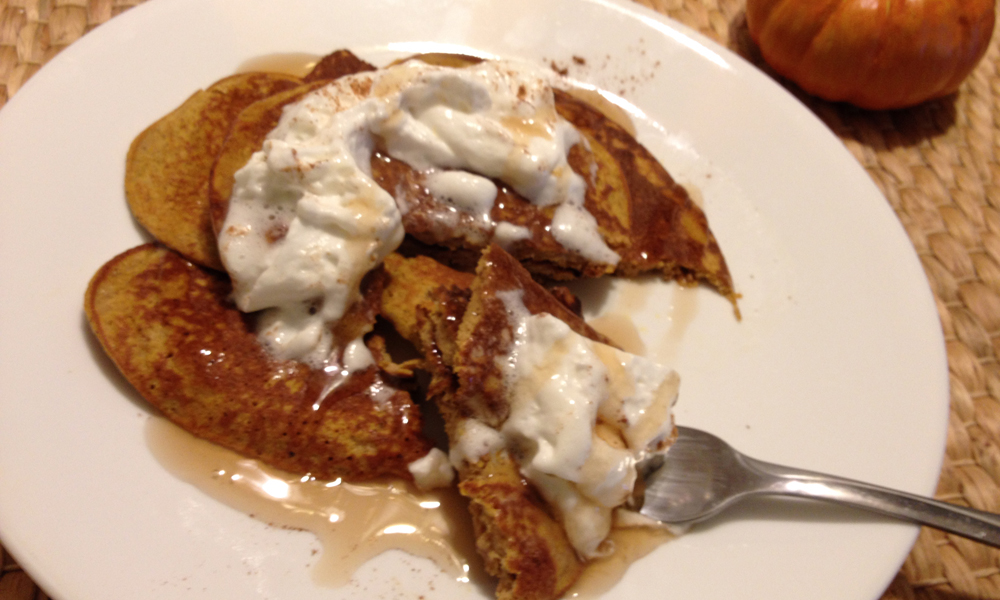 4  Ingredient Pumpkin Spice Pancakes
Ingredients:
1 egg
1/4 cup egg whites (whites from roughly 2 eggs)
1/2 cup pumpkin puree
1-2 Tbs vanilla whey protein powder (or wheat flour)
1 tsp pumpkin spice
Instructions:
1. Mix all ingredients in a small bowl.
2. Heat your pan or griddle before adding your batter. Spray cook surface with non-stick cooking spray, then pour in your pancake batter onto the hot griddle.
3. When the batter stops bubbling, flip over and cook for roughly one more minute.
4. Top with your favorite toppings, such as sugar-free syrup (or regular syrup, but I'm shooting for lower Weight Watchers points here), peanut butter, whipped cream, or pumpkin butter