With all of the insanity of moving finally slowing down, I'm finally getting around to my Cancun trip! We left Sioux Falls for sunny Cancun the second week of April, and arrived back with less than a week before I moved. When I load up my plate with too much to do, I go all out!
A year and a half ago, my first date with Damir was the night before I left on a company trip for Cancun. The funny part is I didn't realize it was a "date" until half way through! It might be a blessing, I wasn't nervous at all! We ended up talking until Bracco closed down, and he snuck in a kiss on our way back to our cars. I didn't mind one bit that I had to get on the plane 3 hours later!
A year later we knew exactly where we wanted to go to celebrate our decision to move in together, and took off for Mexico! It was an especially great trip for Damir, since a trip to the Caribbean is a serious luxury when living in Europe. It was great to spend this time together and check off one of his bucket list items all at once!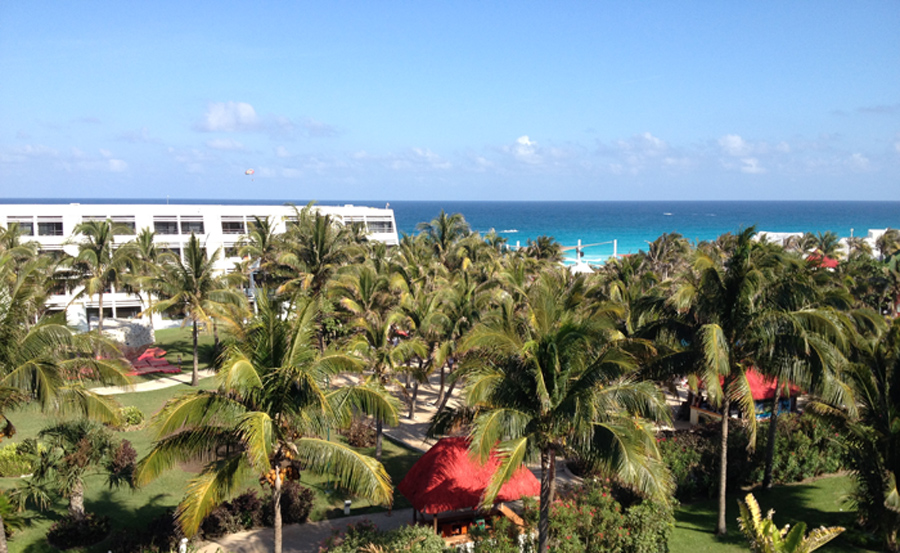 The view from our hotel room! We walked into our room to a freshly chilled bottle of champagne and gorgeous view of the Caribbean Sea!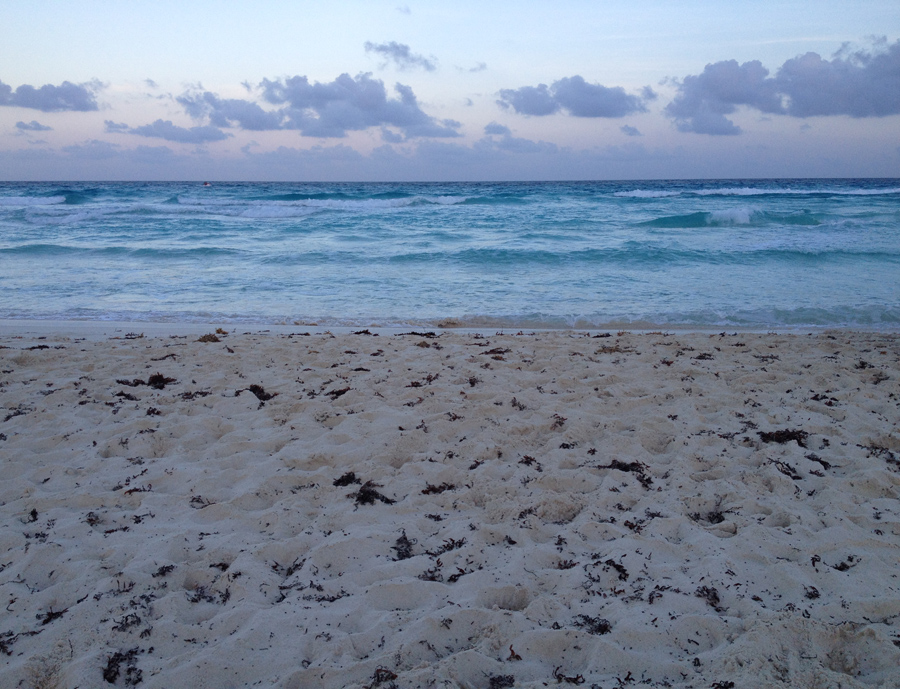 After getting something to eat and the obligatory margarita, we hit the beach until sunset and just listened to the waves.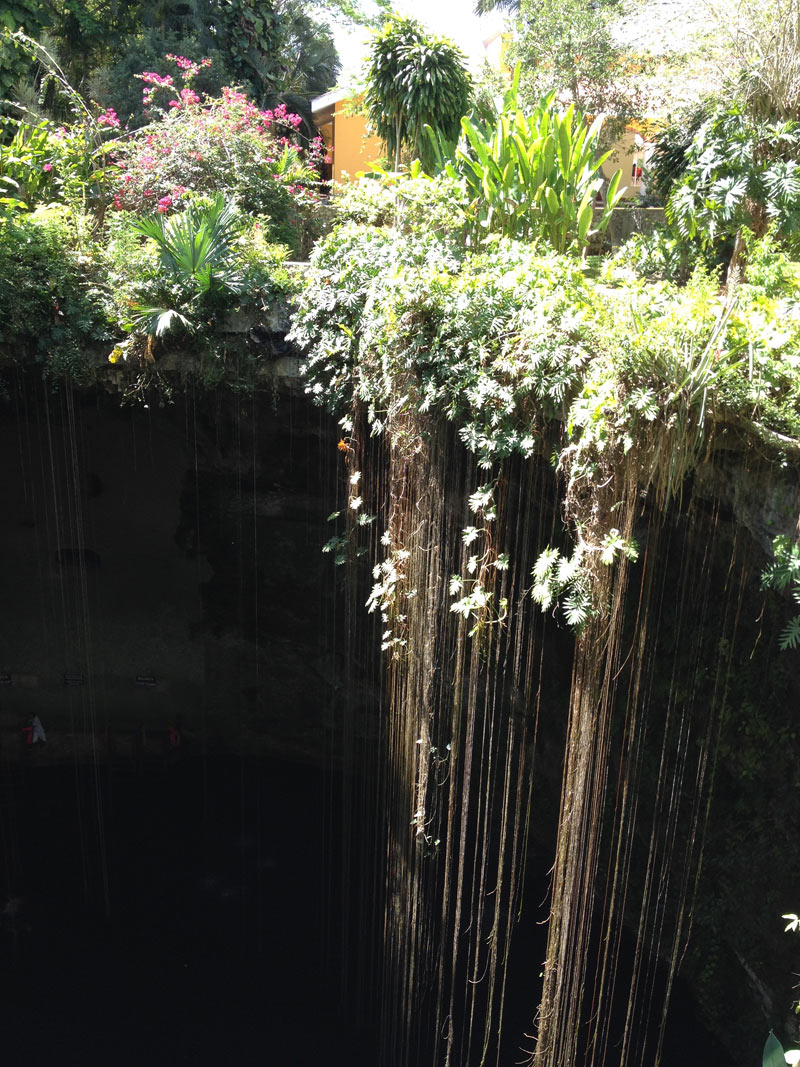 The next day we took a bus tour to Chichen Itza, which was the big ticket item on Damir's list. We started off the day with a trip to the Ik Kil cenote just outside of Tinum. This open cenote's water level is roughly 80 feet below ground level, with vines and waterfalls distending all the way from the top to the crystal water below.
The entire Yucatan Peninsula made of primarily limestone which is quite porous, and water often flows freely through tunnels below the surface in passages through the stone, like swiss cheese! This water was and still is a primary source of water for the Mayans today, and Cenotes are sink holes that go directly down into this water.
The water was pleasantly cool, and full of  small schools of black catfish! It was particularly fun swimming under the waterfalls!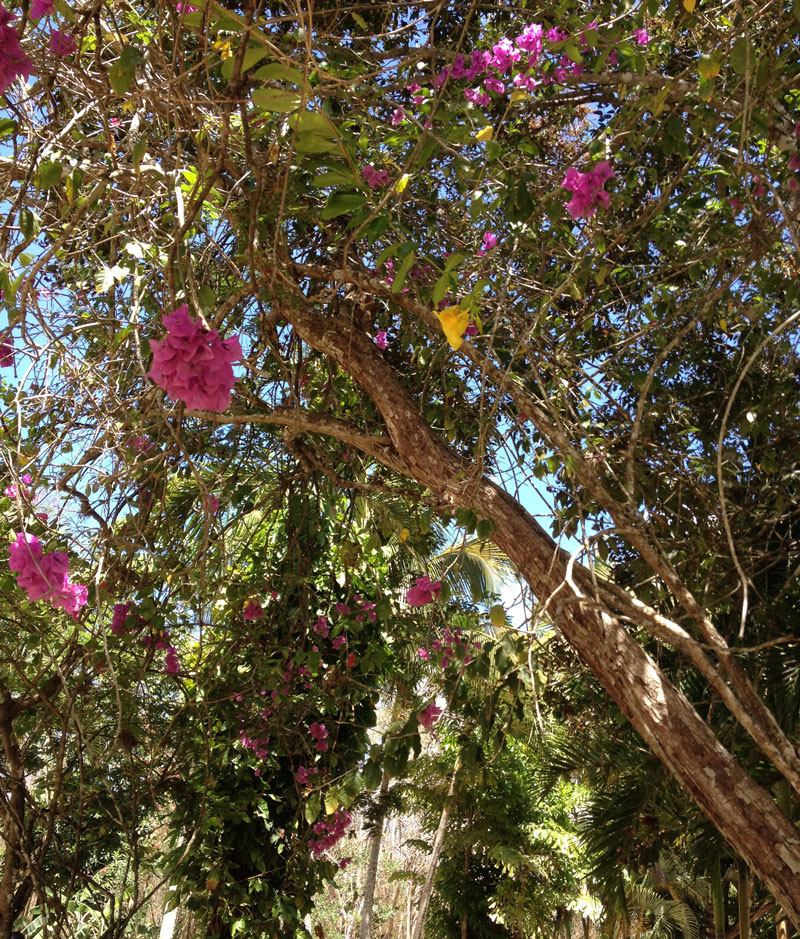 After swimming, we relaxed under a canopy of these incredible blooming trees while waiting until it was time to head to our lunch destination. They covered the entire grounds of Ik Kil, the whole experience was so incredibly lovely!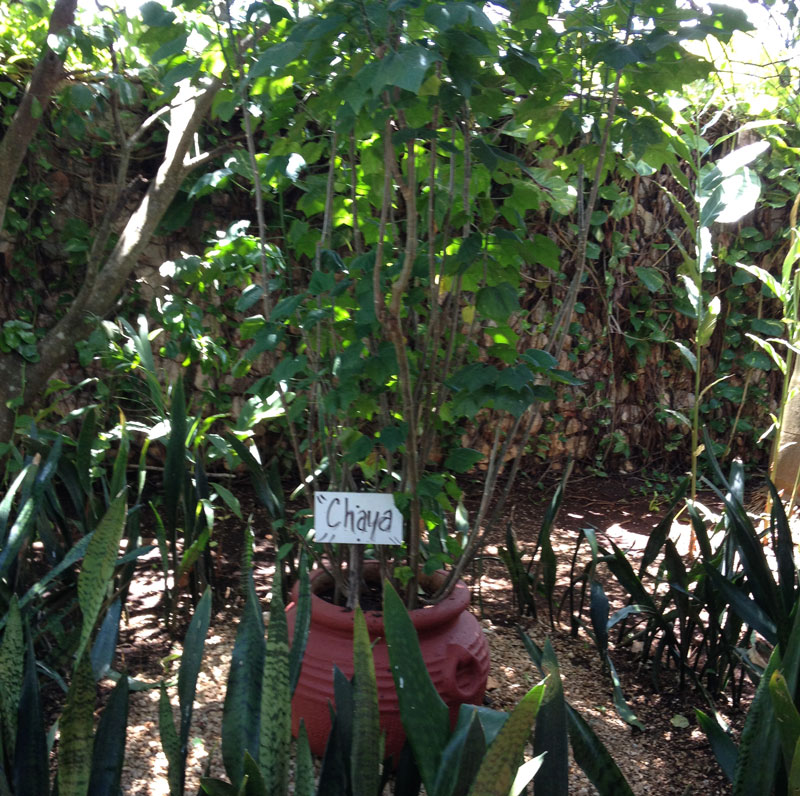 After we finished swimming, we ate an authentic Mayan lunch and drank chaya tea. Drinking the chaya tea allows the Mayans to drink the water from the cenotes without any ill effects from the heavy limestone content, which causes kidney stones. The tea was bright green, like the inside of a kiwi, and was pleasantly sweet.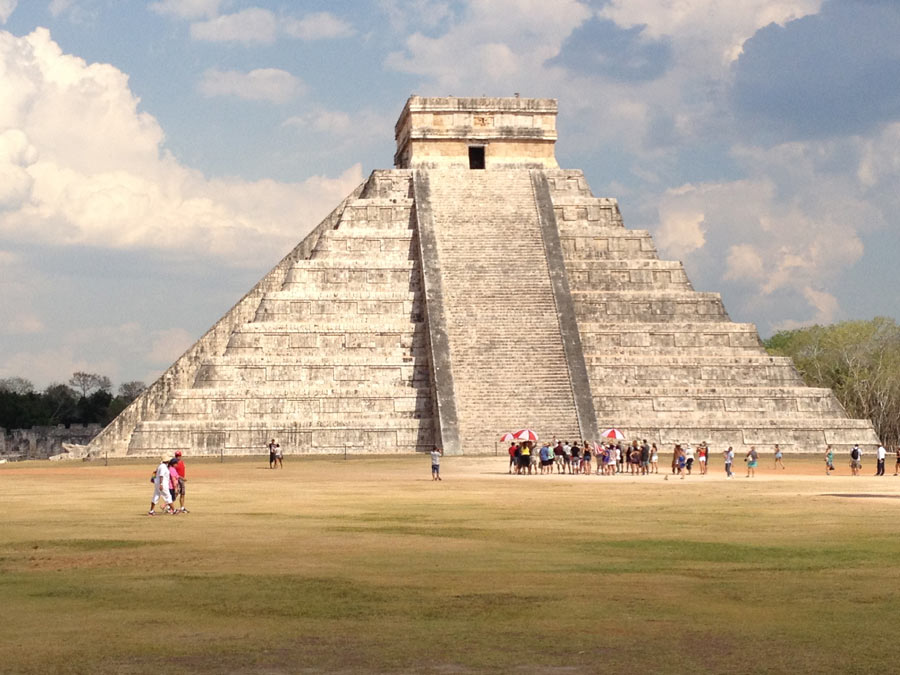 After lunch, we toured the restaurant's massive gift shop, where I purchased a bottle of incredible vanilla liqour, before I realized I hadn't actually planned on checking my bag. Totally worth the bag fees!
Then it was off to Chichen Itza! There really are not a lot of words to describe how incredible this building was. There were so many incredible details, it deserves (and will receive) a post of it's own!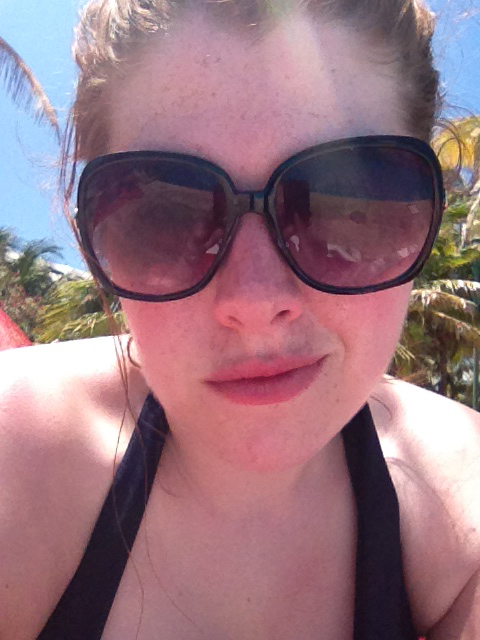 Day 2 was dedicated to napping on the beach, lounging at the pool, and getting horrifically sunburned! I used SPF 100 and still managed a fine shade of lobster. If I had looked more closely at this photo at the time I had taken it, the freckles would have been a dead giveaway. They weren't nearly as many when I started out that morning! Needless to say, I did not notice the warning signs and spent a good 2 hours out after this was taken… ouch!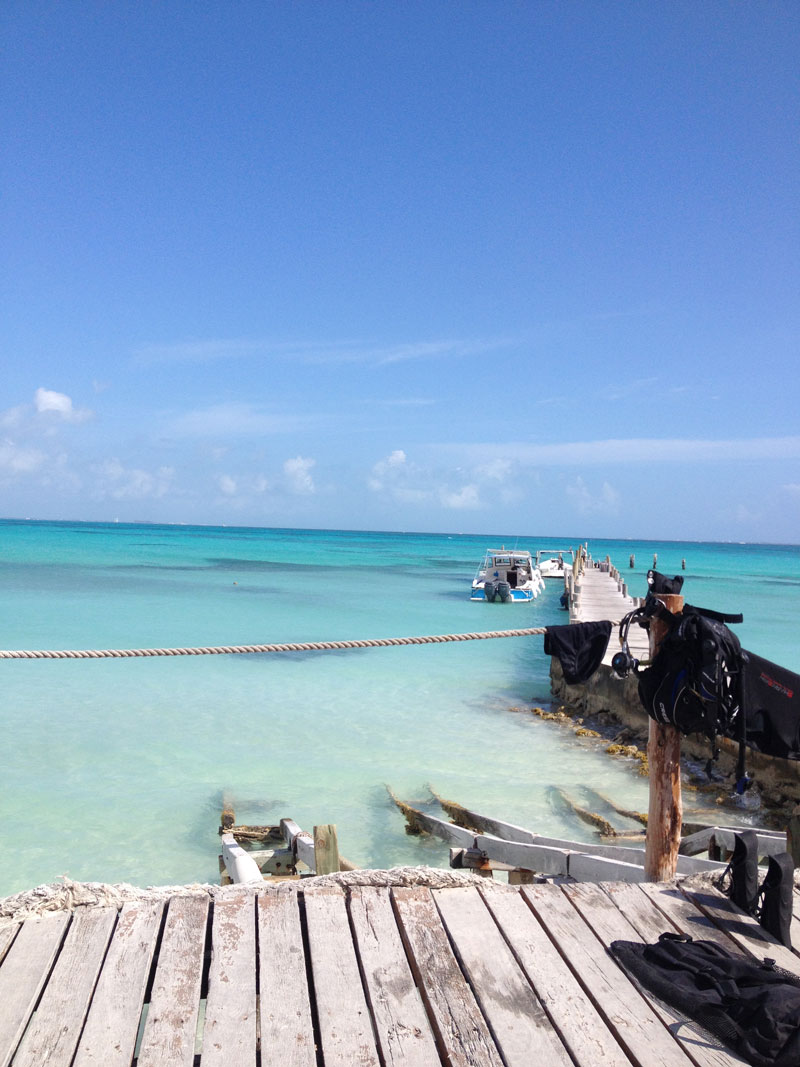 Our final day in Cancun was an interesting one. We started off by heading out to the northern tip of the hotel zone for scuba lessons! Or so they said. What was listed as lessons was actually a 2 minute tutorial of the gear before strapping you into an incredibly heavy oxygen tank and having you jump off the dock, then a 5 minute test to "certify" you to scuba dive 30 meters below the surface. Annndddd about the time I was asked to jump in the water, I was having a fully fledged panic attack and probably drained half of the tank in one go.
When I stop to think about it, I guess I should have realized that this may not have actually been the best idea for me. I have never been a fan of being underwater. Even when I was a little kid, I decided to quit swimming lessons once you had to dive for the brick. It just wasn't my thing. So why I thought I would be ok with breathing through a tiny tube 30 meters below the surface… honestly, I couldn't tell you. All I know is that I didn't even feel a lick of anxiety during the planning of this excursion. It was only as they started to strap on that enormous tank when I realized… crap, this isn't quite what I thought it was going to be, and it was all downhill from there.
Now, I was totally game for going out on the boat to Ilsa Mujeres so Damir could scuba, but it turns out he wasn't able to clear his mask (done by pressing the mask over the bridge of your nose and blowing hard out of your nose to force out the water). If you could hear him snore at night, you would't be the least bit surprised he couldn't breathe through is nose, but overall, we were both pretty disappointed.  Perhaps someday I can look into classes that actually walk you though the certification in a pool and take time to get you used to the equipment. I really would love to learn how, but I think I will need time to be truly comfortable before I can attempt scuba diving again.
We headed back to the hotel, applied another layer of lotion to our sunburns, and headed out to an ocean front restaurant to forget our woes with apple martini's. And with this view, we forgot them quite quickly indeed.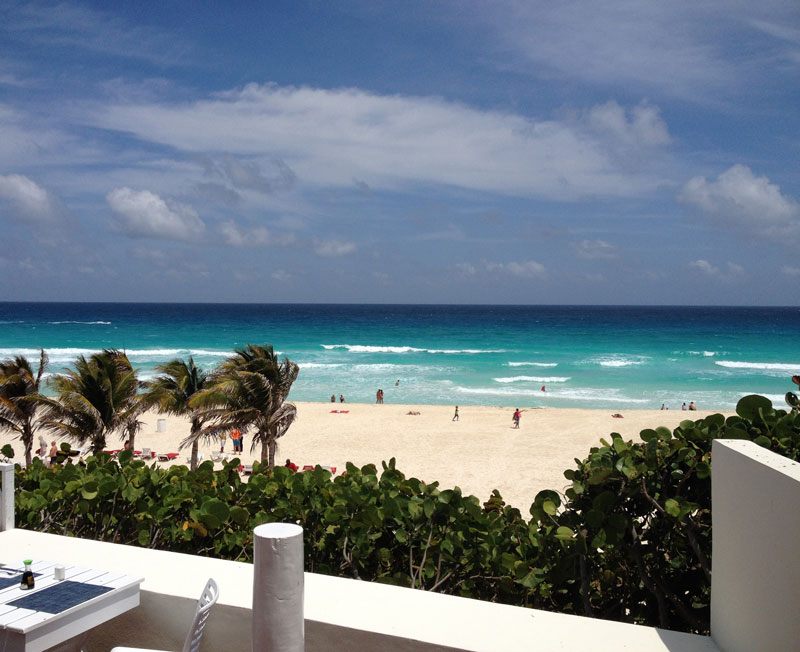 Finally, we rounded out the evening with a meal at our now favorite restaurant on the property, which served authentic Mexican dishes.  Being a Monday night, it was pretty slow night, but our server was the best we'd had the whole trip! He offered us coffee after the meal, which was incredible! He served it with a sliced of spiced fruit (apple, I think) and it was phenomenal! I've seriously been trying to find a recipe, or anything, regarding that particular combo so I can recreate it… but I might just have to experiment.
The next morning, we packed up and headed back, but not without splurging in the Duty Free shops in the airport! Damir scored Mexican cigarettes, chocolates, and trinkets for his family. I snagged a bag of Mexican coffee (gotta do it up right!), Maria Tepoztlan chocolate bars in Tequila, Chili, and Sea Salt flavors, and two tequila cakes (you will see the adorable tins soon!).
If you are even slightly considering a trip to Cancun… DO IT! Seriously, this is such a wonderful country with so much culture and beauty. The hotel zone areas are quite safe, as the entire area is dedicated to tourism, and everyone we encountered spoke English. This didn't stop me from testing my high school Spanish skills at every opportunity, much to Damir's dismay.
If you are a first time vacationer to Mexico, I recommend going the all inclusive routes, but don't necessarily go cheap. The first time I was in Mexico it was on the generosity of my employer, and I was able to enjoy a much higher end resort. This time around, I didn't quite have as much to spend on the trip. While the difference in food and drink quality were noticeable and the crowd was much younger (more of a spring break resort), I still loved every second of it, and honestly, I was probably was setting the bar a little high considering how lucky I was the first time around.
Having been to Cancun twice now, perhaps next time I will consider heading to a less touristy area and stay somewhere different, such as a beach front cottage, and get a little more of the quiet side of everything Mexico has to offer.