At the beginning of the year, I made my new year's goals, as well as a good shot of motivation in my Shattering Glass moment. Since then, it has been an interesting journey in re-learning things I technically already knew about myself.
In the first two months, I pushed my self to go to aerobics classes 4 times a week, and at the end of February, I signed up for the Avera Race for the Cure 5K for breast cancer awareness. I started running (fun fact: I REALLY suck at it). But I persisted, and was getting to a point where I could run half of a 5K and was super optimistic for the May 9th race. I lost 12 pounds, and was feeling really good about myself.
Then mid-march, I sprained my ankle… and not just a regular sprain… a high ankle sprain. The worst part is that I didn't even realize how serious the injury was at first. It didn't hurt to put weight on my ankle, but by the end of the day I ached all the way up my shin and into my hip! Still, I was so determined to push myself that I continued my routine, and was really starting to enjoy running! And by enjoying running, meaning hating every minute of it, but enjoying the flood of pride towards the end of each run when I realized I had run more than the day before.
Finally the pain in the front of my calf and hip was too much, and I went in to my chiropractor. Immediately, he starts adjusting and says, "What on earth did you do to MANGLE this ankle?!?" A quick squeeze test on my calf that caused me to nearly jump off the table, and we had our answer… the dreaded high ankle sprain.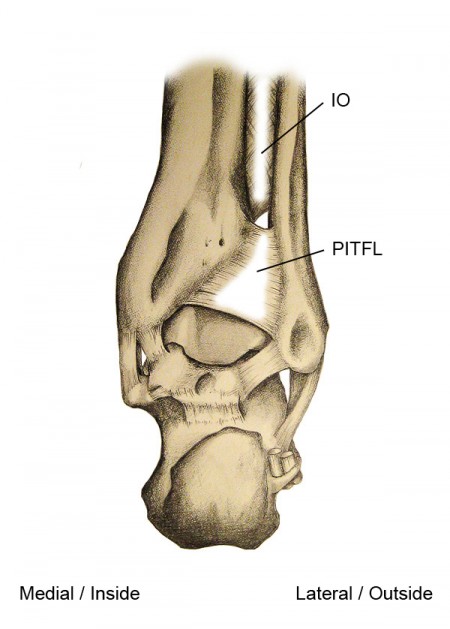 I have never really been a driven athlete, even when I was in ballet back in high school, and I was not aware of what this type of injury even was! I had badly sprained my ankle on a fairly regular basis growing up, and perhaps that was why I didn't take it seriously in the beginning. Turns out, a high ankle sprain doesn't have the same symptoms as a regular sprain, and this is due to the nature of the injury. When you roll your ankle and cause a sprain, typically it is the ligaments (that attach bone to bone, as opposed to tendons that attach muscle to bone) on the outside of the foot that are strained or torn. These are the ligaments that attach your foot to your leg.
In the case of the high ankle sprain, you actually strain or tear the ligaments holding the two bones of the lower leg together (Tibia and Fibula). And unfortunately, these ligaments heal very slowly, often taking from 3 to 6 months for recovery. I now know why athletes consider this injury a season-ender, and even my chiropractor said that a fracture often heals faster. Great….
With both arms still particularly weak (more on this to come!) and one leg down, I kind of feel like the Black Night in Monty Python's Holy Grail… "Tis just a flesh wound!"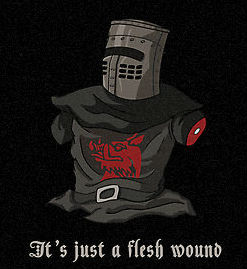 But, in reality, it's the truth of chronic pain. Getting back into shape is so much harder than maintaining, and as much as I am driven to and desire to do a crazy workout plan, such as P90X or Insanity to whip my butt into shape, I know it just isn't a reality for me. I have a much higher likelihood that pushing myself will result in over-exhausting myself and just isn't something I can maintain. I envy those people I see sharing their weight loss stories on the Berry that show before an after pictures of 40 lb losses just 3 months apart… grrrrrr. But putting that type of pressure on myself isn't sustainable, and I think, setting a more realistic goal would be ideal.
So here is to accepting that I am not a runner. But, I am not yet giving up. With chronic pain, it is SOOOO important to listen to your body! And if I had been listening, I would have (and really, should have) known that it doesn't make sense for me to shoot for a short finish line. Instead of pushing for a quick fitness turnaround, I am going to aim out further and make it less of a sprint for quick results. I want to really focus on changing my health no matter how long it takes, just a few steps at a time. No matter how slowly I have to go, each step towards my goal is progress.
Perhaps I can run the Avera 5K NEXT year, and shoot for some smaller, more attainable goals in the meantime. Insane Inflatable 5K anyone?
Disclaimer: I am not a doctor, and all information provided in this post is simply my experience with this particular injury and is not intended to be taken as medical advivce. If you experience any pain similar to this, please refer to a physician for assistance! The web is a great place for information, but not necessarily for medical diagnosis.